Update: ARC Supports and Services Remain Available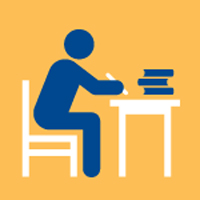 Updated March 19: The Academic Resource Center (ARC) is available to support faculty and students as the University moves instruction of spring courses online.
Due to the need to continue to cut down on person-to-person interactions, the physical Academic Resource Center (ARC) is closing until it is safe to return to normal operations. While the physical ARC is closed, the core academic support resources and services – academic counseling, ADA services, assistive technology assistance, tutoring, and writing – remain available to faculty and students.
This physical closure does mean that the Testing Center is closed and that in-person appointments are not available, but virtual (phone and WebEx) appointments are available with full-time ARC team members. Students can access tutoring and writing support through NetTutor, and the Online Writing Center is also available to provide students with writing support.
The ARC team is also available to assist faculty and staff members with their questions and concerns with regard to supporting students, accessing resources and helping students access resources, and providing any assistance needed for WorldClassRoom and WebEx.
Our professional team has experience with WorldClassRoom (both for on-ground and online courses) and WebEx and can assist you with learning how to navigate and promote the available student resources, including NetTutor for online tutoring assistance and both NetTutor and the Online Writing Center for online writing assistance.
Online Writing Center
To submit a paper to the Online Writing Center, go to webster.edu/academic-resource-center/writingcenter, and scroll down to the section called "Submitting a Paper for Online Help."
To access Online Writing Center information through WorldClassRoom (Canvas), click on the Help option in the left-hand menu and select Writing Assistance.
You may access a video to review these steps.
NetTutor
To access NetTutor, an online, professional tutoring and writing service, log in to any WorldClassRoom (Canvas) course shell and select NetTutor in the left-hand course menu. (If you have hidden the NetTutor option, please be sure to unhide it for your courses.)
You may access a video to review these steps.