Academic Resource Center Writing Support Services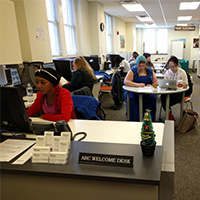 The Writing Center, Online Writing Center (OWC), and NetTutor provide students, faculty, and alumni with many types of writing support. Due to COVID-19, our services, providing students support and feedback on every step of the writing process from brainstorming to citation, are currently remote.
All Webster students, worldwide, are welcome to use any of our services. Our friendly coaches give constructive, holistic feedback on all assignments.
The Writing Center
The Writing Center is open to all Webster students, worldwide, and Eden students for support with their paper and project needs. Writing coaches are currently working remotely via Zoom to assist students with all steps of the writing process and look at global issues of focus, development, organization, logic, and clarity. While the Writing Center is not a proofreading service, coaches will discuss patterns of mechanical and grammatical issues and provide suggestions on how to recognize and correct them. Coaches will also assist with conventions of documentation and citation.
Our writing coaches maintain standards of professionalism and privacy as outlined through our University's policies and through the Family Educational Rights and Privacy Act of 1974 (FERPA).
The Online Writing Center (OWC)
The Online Writing Center is open to all Webster students, worldwide, for support with their paper and project needs. Online writing assistance is also available to Webster University alumni, faculty, and staff. The Online Writing Center is devoted to helping students become better, more confident writers. Students can access the OWC through WorldClassRoom (Canvas).
First, they must select the Help link in the blue global menu; then, they select the Writing Assistance link. On the following page, there are resources for students as well as the link to submit their assignment to the Online Writing Center under the Get Online Writing Help section. That link will take students to the Qualtrics submission form, which requests important information about the student and their assignment. Once a paper is submitted, the student will be sent an email from us confirming that the paper was received. The student can expect to receive their paper back in two to three business days from confirmation that the submission has been received. During peak times, such as the weeks surrounding midterms and finals, that turnaround time is slightly longer, around four to five business days.
Papers are processed by the OWC staff Monday-Friday 9 a.m. to 4 p.m., so submissions sent in the evening or over the weekend will not be processed until the following business day. Students should keep this information in mind when submitting papers for review to ensure that they will receive feedback before their deadlines or due dates.
NetTutor
Webster has also joined forces with NetTutor. NetTutor is accessed through any course shell in WorldClassRoom (Canvas). The link is on the left-hand course menu. Students may choose to have live tutoring or to drop off a paper for review. NetTutor also has a locker where students' sessions will be stored for future review.
Faculty and staff support
As a final note, we offer writing support for faculty and staff as well. We are available for class presentations. These presentations can be tailored to the needs of faculty and staff in terms of topic, length, and format. We can also provide handouts upon request and have uploaded many handouts and resources on the Writing Center webpage under "Writing Resources."
If you have questions about using the Writing Center, Online Writing Center, or NetTutor, please contact the Writing and Online Writing Center Coordinator, Kristin Cobos, at 314-246-8685 or kristincobos14@webster.edu.