Adorn or Disfigure Exhibit Opening at Arcade Building Feb. 3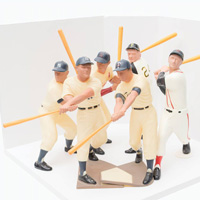 "Daguerreotypes, ambrotypes, photographs and electrotypes, good and bad, now adorn or disfigure all our dwelling... Men of all conditions may see themselves as others see them. What was once the exclusive luxury of the rich and great is now within reach of all."
-Frederick Douglass, Pictures and Progress, 1864
The Arcade Contemporary Art Projects Gallery at Webster University's Gateway Campus hosts the opening reception of the exhibit Adorn or Disfigure on Saturday, Feb. 3, from 6-9 p.m. The exhibit will run through Feb. 28, and is a collection of work featuring student artists in the Department of Art, Design & Art History. The reception and exhibit are free and open to the public.
Adorn or Disfigure showcases a collection of work that is an extension of the artists' exploration of contrast, perception, and self-representation within their own practice.
Featured DADAH Artists
Featured Webster University student artists in the Department of Art, Design & Art History (DADAH) of the Leigh Gerdine College of Fine Arts:
Brennan Stamulis
Niki Harris
Aleida Ruelas Hertel
David Pulphus
Alex Williford
Katie Dineen
Andrew Gurney
Moira Smith
Krista Valdez
Quinton Ward
Nathan Walton
For questions or information, contact Arcade Contemporary Art Projects Gallery coordinator Francesca Curcuru.
Inspiration
Adorn or Disfigure is a group exhibition rooted in and inspired by the words of African-American social reformer, abolitionist, orator, writer, and statesman Frederick Douglass, especially within the greater context of its meaning in the book or essays, lectures and photographs, "Pictures and Progress: Early Photography and the Making of African American Identity," by editors Maurice O. Wallace and Shawn Michelle Smith.
"Pictures and Progress explores how, during the nineteenth century and the early twentieth, prominent African American intellectuals and activists understood photography's power to shape perceptions about race and employed the new medium in their quest for social and political justice. They sought both to counter widely circulating racist imagery and to use self-representation as a means of empowerment."