Osei's 'Fashion and the Brain' at Arcade Gallery Oct. 26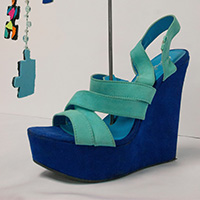 Join the Department of Art, Design, and Art History Friday (DADAH), Oct. 26, 6-8 p.m. at the Arcade Building located on the Gateway Campus for a free reception and exhibition opening of "Fashion and the Brain."
This is a collaborative project of artist, DADAH adjunct faculty member and Webster 2013 alumna Yvonne Osei, University of Missouri St. Louis and the Missouri Institute of Mental Health (MIMH).
Transmedia artist, designer and curator Osei humbly and enthusiastically invites the Webster community to experience the installation.

"I had the opportunity to convince a group of scientists, researchers, and clinicians at Missouri Institute of Mental Health in the University of Missouri–St. Louis to go thrift shopping with me," Osei explained. "The remnants of this performance art will be in an exhibition titled 'Fashion & The Brain: How is The Brain Fashioned and How is Fashion Brained?' Come and experience artworks created through artistic and scientific methodologies. This is one of the most rewarding things I have done all year!"
The designs, fashion pieces and installations will be exhibited over the next month in the historic store front window cases of the grand hallway on the first floor of the Gateway Campus in the Arcade Building.
Visit the "Fashion and the Brain" Facebook Page or MIMH's website for more information.