News Around Webster: Barrett, Woolf, Ervin, Ali
Recent professional achievements for Webster University community members include:
Barrett Review of 'Dorothy Day and the Catholic Worker'
Bill Barrett's review of "Dorothy Day and the Catholic Worker: The Miracle of Our Continuance" (Fordham University Press, 2016), a book of photographs by Vivian Cherry, is in the December 2016 issue of the Catholic Worker.
Barrett is professor of Electronic & Photographic Media and coordinator of the BA Photography program in Webster's School of Communications.
Recently, the Museum of the City of New York acquired one of Bill Barrett's photographs for its new exhibit "New York At Its Core: 400 Years of NYC History." Plans are for the exhibit will be on view for at least the next 10 years.
Woolf on APA Committee on Secondary Schools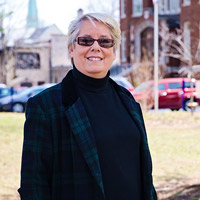 Linda Woolf, professor of psychology and international human rights in the College of Arts & Sciences, has been appointed by the American Psychological Association (APA) Board of Educational Affairs to serve as one of two College Faculty Representatives on the APA Committee of Teachers of Psychology in Secondary Schools (TOPSS).
TOPSS is the voice of high school psychology teachers and promotes excellence in the teaching of psychological science at the high school level through the National Standards for High School Psychology Curricula; meets the curricular, professional development and networking needs of high school psychology teachers; provides opportunities for high school psychology teachers and their students to be recognized and rewarded for their excellence; increases the professional identity and leadership opportunities for high school psychology teachers; and enhances the visibility of psychological science as a means of promoting health, education and human welfare.
Visit the TOPSS website at APA for additional information.
Ervin, Hobin, Wilcox on National Security Roundtable
Katie Ervin, Midwest regional director based at Fort Leavenworth, along with Webster international relations instructors Gary Hobin and Mark Wilcox, participated in the Command and General Staff College Foundation National Security Roundtable.
This year the roundtable was cohosted with the U.S. Army Command and General Staff College's Department of Joint, Interagency and Multinational Operations (DJIMO) to bring community leaders together with students at the Command and General Staff College to build relationships between the army and businesses.
Ervin is sits on the board of trustees for the foundation and worked the foundation leadership to host the event. Gary and Mark both present sessions similar to what they teach their students daily at CGSC.
Ali, Schubert on OPEC Cuts
Mehdi Ali, adjunct professor in business and management at Webster Vienna and accredited to OPEC as oil analyst, participated in the OPEC Ministerial Meeting held in Vienna on Nov. 30. The meeting was historic as it was the first meeting since 2008 where OPEC decided to cut oil production.
Read more about Ali's activity at Webster Vienna.
On the topic of those OPEC cuts, Samuel Schubert, assistant professor of international relations and interim associate director for Webster Vienna, was interviewed on FM4's news magazine show "Reality Check" about the decision.