News Around Webster: Tehindrazanarivelo, Breault's game design text, Environmental Echo and Corrigan, Cosic's grant
Recent professional news and achievements for Webster University community members include:
Tehindrazanarivelo Appointed Foreign Minister of Madagascar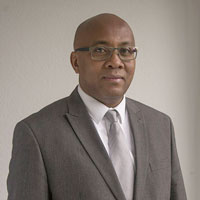 Djacoba Tehindrazanarivelo, adjunct faculty member in the International Relations Department at Webster University's Geneva campus, has been appointed as foreign minister of Madagascar.
Tehindrazanarivelo, who instructed a popular course on the politics of peace, is a specialist on international affairs and international law, and has served as a legal advisor and consultant with the Government of Madagascar, the International Labor Organization (ILO), the Inter-Parliamentary Union (IPU), and the Swiss Federal Department of Foreign Affairs.
Tehindrazanarivelo has also taught and conducted training seminars at the Catholic University of Lyon, the University of Geneva, the International Institute of Human Rights in Strasbourg, and the United Nations Institute for Training and Research (UNITAR). He is the author of numerous academic publications.
Breault Textbook '

Narrative Design: The Craft of Writing for Games' Now Available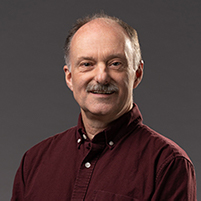 Mike Breault, assistant professor in Webster's Games and Game Design program in the School of Communications, has published a textbook on narrative design and game design with CRC Press.
"Narrative Design: The Craft of Writing for Games" distills the experiences of a 35-year career in the game industry and the lessons learned from over 130 published games.
In the first half of the book, he introduces the general principles of writing and designing games, while the second half contains detailed class syllabi and assignments from the classes Breault has taught in the past. This textbook is recommended for anyone wanting to know what writers and designers do in the gaming industry and how to build a portfolio that will appeal to game companies.
Corrigan's Environmental Echo Receives Statehouse Resolution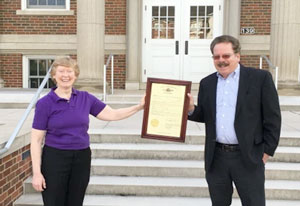 The School of Communication's Environmental Echo blog received recognition in a Missouri Statehouse Resolution in the 100th session of the General Assembly of Missouri in Jefferson City.
The 2020 Resolution was presented in June by Missouri State Rep. Deb Lavender, 90th District, at Kirkwood City Hall to Webster Professor Emeritus Don Corrigan, who co-founded Environmental Echo as an outlet for journalism focused on nature, wildlife, sustainability and environmental protection.
The Environmental Echo Blog was a class project for students enrolled in the Outdoor Environmental Journalism Certificate in the School of Communications at Webster University. Among the first articles for the blog was a story on proposed fracking in the Illinois Ozarks by Claire Hagerty and a story on a management plan for the Ozark National Scenic Riverways in Missouri by Holly Shanks.
Environmental Echo has published several hundred articles since its inception, including stories on climate change and flooding in the Mississippi and Meramec river basins and radioactive waste contamination in Coldwater Creek and the West Lake Landfill in north St. Louis County.
The House Resolution presented by Lavender also recognized Corrigan's many books, including Environmental Missouri: Issues and Sustainability – What You Need To Know and Nuts About Squirrels. The Resolution saluted Corrigan's more than 40 years as editor of the Webster-Kirkwood Times newspaper group and his decades as a professor at Webster University.
Cosic A

warded WaveMaker Grant for

The Bubble Pops Popsicle Project/ PROJECTIONS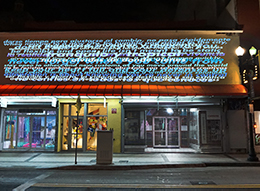 Faculty member Zlatko Ćosić and Miami artist Laurencia Strauss have been awarded a WaveMaker grant for The Bubble Pops Popsicle Project/ PROJECTIONS. For over two years, Miami residents have been contributing their advice learned from adaptive experiences like immigrating or surviving hurricanes in exchange for a hand-crafted bubble popsicle.
Each participant's input has then been integrated into the next iteration of popsicles as the body of knowledge grows and circulates. PROJECTIONS expands this communal adaptation advice resource by projecting it as a video on the façade of a Miami building. Visitors and locals will be able to view these collective responses, and contribute their own, as they engage with each other during pop-up iterations of the popsicle stand.
WaveMaker Grants at Locust Projects brings critical support to the growing number of innovative, artist-driven endeavors that make up Miami-Dade County's burgeoning cultural landscape. WaveMaker focuses on experimental, artist-centric projects and activities that operate without traditional funding sources and outside the marketplace demands. WaveMaker Grants are made possible by lead support from The Andy Warhol Foundation for the Visual Arts and is part of the Warhol Foundation's Regional Regranting Program.