Around Webster: Antonakakis, Cuille, Jensens, Rosenblum
Recent professional news and achievements for Webster University community members include:
Antonakakis in LSE Politics and Policy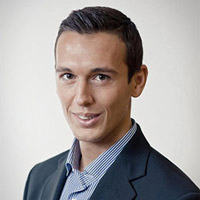 Nikolaos Antonakakis, Business & Management Department head at Webster Vienna, has written a guest post for the London School of Economic's British Politics and Policy blog.
His post draws upon a co-authored article with Webster Vienna researchers Ioannis Chatziantoniou and David Gabauer as well as Christos Floros.
Their research counters a commonly-believed phenomenon in the UK housing market: the ripple effect.
Read more about it at Webster Vienna.
Rosenblum Presenting Two Holocaust Lectures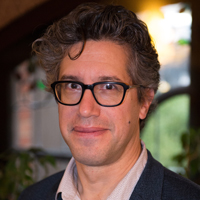 Warren Rosenblum, professor of history and chair of the Department of History, Politics, and International Relations in the College of Arts & Sciences, is giving two talks this week on topics related to the Nazi euthanasia program.
He is presenting "'Merely Human:' Disability, Exclusion, and the Origins of the Nazi 'Euthanasia Program.'" at the 10th Annual Norman Cohn Family Holocaust Remembrance and Education Lecture at Northern Iowa University in Cedar Falls, Iowa, on Tuesday April 17, 2018. This talk is co-sponsored by the United States Holocaust Memorial Museum.)
Later, in St. Louis, he will present, "'Engaged Therapy:' Medicine, Disability, and the Origins of the Nazi Euthanasia Program," as the 29th Annual Holocaust Lecture at Washington University in St. Louis School of Medicine. That talk, sponsored by the Department of Medicine and Division of Pulmonary and Critical Care Medicine, takes place Thursday, April 19, at 8 a.m. in Clopton Amphitheater.
Jensens Honored for Contributions to Forensics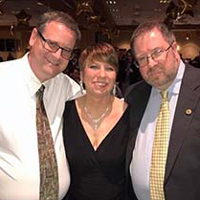 Gina Jensen and Scott Jensen were recipients of the Outstanding Contributions to Forensics award, presented by the Central States Communication Association during its Argumentation and Forensics Interest Group meeting at their annual conference in Milwaukee, Wisconsin. The two were recognized for a range of service to the forensic community for over two decades.
In particular, their hosting and direction of the annual Gorlok Gala, hosted on campus each January, was noted as one of the nation's most important invitational tournaments each year. Additionally, they were recognized for their leadership in Pi Kappa Delta as past national presidents, national tournaments hosts, and national tournament directors.
Gina is in her 25th year as a forensic coach/educator, while Scott is in his 33rd year of teaching. He directed Webster's forensics and debate program until two years ago when Gina assumed director responsibilities. The two are also active scholars and tournament administrators, assisting with the direction of several tournaments and presenting papers and workshops at professional conferences each year.
Separately, Scott Jensen presented several papers at the recently held annual convention of the Central States Communication Association (CSCA). His paper, "A Difference that Makes a Difference? Implications of 'Coach' vs 'Educator' Within the Forensics Community," was part of the Argumentation and Forensics Interest Group's Top Panel. He also presented a second paper, "Vines, Curses, and Traditions: Reflection on the Modernization of Wrigley and a World Championship on the Chicago Cubs as 'Promised Land."
Additionally, Jensen offered a position statement as part of a panel examining basic communication courses at liberal arts colleges and universities entitled "Bona Oratio: Challenges and Solutions in Introductory Communication Courses at Liberal Arts Colleges and Universities." His workshop, "The Challenges of Dissention: Teaching Conflict, Forgiveness, and Civility in the Communication Curricula," was the top program at the fall conference of the Speech and Theatre Association of Missouri and was presented as a state showcase program during the recent Central States conference. Jensen is also spearheading the creation of the Communication and Sport Interest Group within the CSCA.
This group would sponsor and encourage scholarship and pedagogy in the full range of sports communication. The association is currently auditing the membership petition and is expected to make a decision before the end of the semester.
Cuille at Brown on Paris '68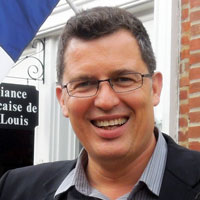 Lionel Cuillé gave a talk on "The poetry of Francis Ponge: foreseeing May' 68" at Brown University.
The talk was part of the International French and Francophone colloquium (CFFS) devoted to the fifteenth anniversary of the student revolution of May '68 in Paris.
Cuillé is the Jane and Bruce Robert Chair in French and Francophone Studies in Webster University's College of Arts & Sciences.