Around Webster: Hellinger conspiracy book; Christeson finalist; Stiles on APA
Recent professional news and achievements for Webster University community members include:
Stiles on APA Task Force, Presenting with Grad Students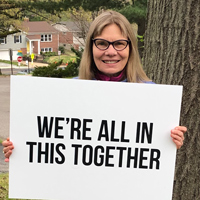 Debbie Stiles has accepted the invitation from the International Psychology Division of American Psychological Association (APA) to serve on the new COVID-19 Task Force. She will help build a larger collaborative APA task force to address the psychological needs of communities during this COVID-19 crisis.
With the help of her graduate students, she will help to disseminate resources and create resources. She and her students have ALREADY created a video/webinar, COVID-19 and the Mental Health Needs of Immigrant and Refugee Children – April 2020.
Their April 2020 webinar, "COVID-19 and the Mental Health Needs of Immigrant and Refugee Children," can be viewed here.
In May they will complete COVID-19 and the Mental Health Needs of Immigrant and Refugee Children –May 2020. The audiences for the second webinar include children, adolescents, and adults. Portions of the second webinar will be available in English, Spanish, Japanese, Bosnian, and Armenian.

This summer Stiles is teaching EPSY 5952 "Children, Trauma, and Crisis Intervention" online, where she hopes to create additional materials.
Stiles is a professor in the Applied Educational Psychology and School Psychology program in the School of Education.
Christeson's collabARTive a Finalist for National Award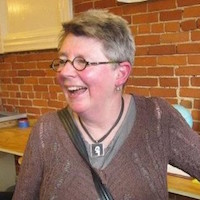 The community collabARTive co-founded by Con Christeson is a finalist for the Robert E. Gard Award, a national program by Americans for the Arts that honors projects from the last year that have integrated the arts into the community in meaningful, measurable ways. Christeson is an adjunct faculty member in the School of Communications.
The community collabARTive began in 1999 with funding for nine months. Co-founders Con Christeson (managing artist) and Tom Burnham (Shelter Director) worked with men in a transitional housing program at Peter & Paul Community Services, where Webster University community members have also long served dinner once a month for homeless guests.
Thursday nights found artists cooking, eating, and making art i.e. writing, printmaking, painting, and photography, and so began 21 years of weekly art groups with hundreds of men (and now women), more books, exhibitions, performances, and countless stories that tell the greater community that homelessness is not the only chapter in any person's narrative. Residents and alumni now return weekly to support each other and the community that was built, one Thursday at a time.
Participants are in transitional housing, from multiple ethnicities and social strata, working their way out of homelessness. The community collabARTive now works across all of Peter & Paul's programs. When the agency built new facilities, an art studio was included along with support for a Cherokee Street studio, giving the men [and now women] community access.
Read more about the project's regular activities and history under "community collabARTive" at the Gard Award finalists page.
Hellinger's 'Conspiracies...' Text Now Available as Audio Book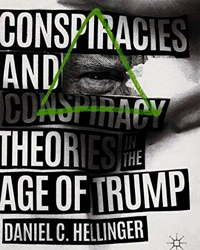 Dan Hellinger, professor emeritus of international relations in the College of Arts & Sciences, has had his book, "Conspiracies and Conspiracy Theory in the Age of Trump," published as an audio book.
This book focuses on the constant tension between democracy and conspiratorial behavior in the new global order.
According to one review, Hellinger's 2018 book "is not just a timely look at the swirling conspiracy and counter conspiracy theories involving the 45th President of the United States…it is also a deep dive into the kind of civic and intellectual culture which has produced these theories."
Learn more about the book from the publisher. Access the audio version here.