News Around Webster: Reilly, Hipsher, Bentley '74, MA '88
Recent professional news and achievements by Webster University community members include:
Reilly Presents on Transitions Program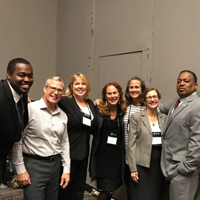 Terri F. Reilly, adjunct faculty member in the Department of English, participated in a panel presentation on "Degrees with Less Debt: Effective Higher Education Strategies for Underrepresented Student Populations" on Oct. 13 at the Global Community for Academic Advising Annual Conference (NACADA).
The panel was spearheaded by St. Louis Graduates and the Illinois Education Research Council.
Reilly presented on Webster's Transitions and Academic Preparation (TAP) program, a 10-day, intensive, summer resident bridge program designed to provide at-risk incoming freshmen with early academic support and two credit hours at no cost.
Pictured, left to right: Maxwell Artis, life coach, Maryville University; Ken Schueller, director of Student Success, University of Central Missouri; Janel Holt, Illinois Education Research Council; Terri F. Reilly, adjunct professor, Webster University; Rachelle Darabi, associate provost for Student Development and Public Affairs, Missouri State University; Laura Winter, project director, St. Louis Graduates; Trent Ball, associate dean of Supports and director of Student Retention, Southeast Missouri State University
Hipsher Book on Poverty Reduction in Southeast Asia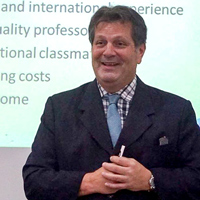 In an effort to explore and better understand the poverty reduction attempts in the region, Webster University Thailand faculty member Scott Hipsher has penned a book, "Poverty Reduction, the Private Sector, and Tourism in Mainland Southeast Asia."
Focusing his research specifically on Cambodia, Laos, Myanmar, Thailand, Vietnam, and Yunnan (China), Hipsher's book outlines and analyzes the primary reasons for poverty reduction in each country.
Hipsher challenges the common narrative that asserts foreign aid as the most direct and effective way to combat poverty. Instead, it is argued that innovation in the private sector and tourism have both actually played far greater roles in poverty reduction when compared to foreign aid. Combined with foreign investment and incremental moves by governments towards more market-based economic policies, he argues this far outweighs any impacts via international development assistance.
Read more about the book in this Webster University Thailand story.
Bentley '74, MA '88 Honored as Remarkable St. Louisan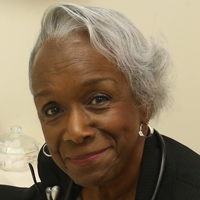 Webster University alumna and Webster Groves resident Judy Bentley '74, MA '88 was honored by St. Andrew's Resources for Seniors System at its 15th annual Ageless Remarkable St. Louisan's Gala, celebrating the outstanding achievements of dynamic older adults age 75+.
Bentley, 79, is a nurse practitioner on a mission to assure access to healthcare and social services for those who are underserved in the St. Louis Metropolitan community. She founded and for the past 27 years has been president and CEO of Community Health-in-Partnership Services (CHIPS), the largest free health clinic in St. Louis. Located on the northside of St. Louis, the clinic is staffed by volunteer physicians, nurses and other professional and lay community members. Since CHIPS was founded, the organization has helped more than 25,000 individuals obtain wellness.
She has been honored with numerous awards including most recently the Lifetime Achievement Award Top Ladies of Distinction (2016), The Distinguished Service and Healthcare Award from the LINKS St. Louis Chapter (2016) and the Urban League of Metropolitan St. Louis Salute to Women and Leadership Award (2016). She also volunteers at St. Louis Children's Hospital and Washington University Medical School.
She and her husband, Herbert, have supported the TKT Scholarship Fund since 1995, and Judy was recognized by Webster for her achievements as a Notable Alumna in 2010.