News Around Webster: Jensen; Nomikos, Rosen, Wiggins
Recent professional news and achievements by Webster University faculty members include:
Rosen on Gaming, Sims in Teaching Research Methods
Amanda Rosen, associate professor in the Department of History, Politics and International Relations in the College of Arts & Sciences, and her colleague, Nina Kollars from Franklin and Marshall College, published their article, "Who's Afraid of the Big Bag Methods? Methodological Games and Role Play" in the Journal of Political Science Education.
The article discusses using games and role-playing exercises to teach research methods.
Drs. Rosen and Kollars will give a workshop on using games and simulations to teach political science at the International Studies Association-South's Annual Meeting in Orlando in October.
Jensen on Debate, Sports, Speech Curricula
Scott Jensen, professor in Communications & Journalism in the School of Communications, published an article in The Forensic of Pi Kappa Delta (102, pp. 17-30), a refereed journal this summer: "Be it resolved that debate is resolute: Deep structures as explanation for predictable cycles in the evolution of intercollegiate debate."
Jensen also has an article published coming out next week in The Journal of the Speech and Theatre Association of Missouri (47, pp. 70-94), a refereed journal: "From the field to the arena to the classroom and stage: The case for sports in performance and communication pedagogy and instruction."
Next week he will present a paper at the annual conference of the Speech and Theatre Association of Missouri, "The challenge of dissention: A rationale and strategies for teaching conflict, forgiveness, and civility in speech and theatre curricula."
Nomikos Scholarship on Mediterranean, Balkan Security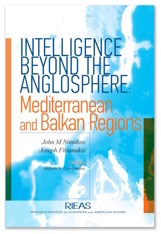 John M. Nomikos, academic head of international relations at Webster Athens, has edited "Intelligence Beyond the Anglosphere: Mediterranean and Balkan Regions" along with Joseph Fitsanakis, assistant professor of Intelligence and National Security Studies, Coastal Carolina University.
It was recently published by the Research Institute for European and American Studies (RIEAS) in Athens, Greece, with reviewers calling it "a commendable piece of unique scholarship" in an area that needs more academic and policy attention.
The text addresses security challenges and policy within the Mediterranean and Balkan regions, from the disintegration of Yugoslavia and the aftermath of the so-called Arab Spring, to ethnic cleansing, political turmoil, fundamentalism, organized crime, terrorism, illegal immigration and foreign interventions. This comprehensive collection of essays provides insightful information into a number of rarely discussed case studies, providing a comprehensive survey of intelligence issues in countries that would rarely be available to scholars and practitioners outside of the Mediterranean and Balkan regions.
For more information on this publication, visit www.rieas.gr.
Wiggins on Fake News in Journal of E-Politics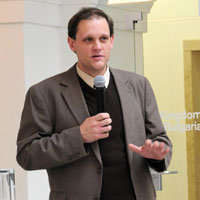 Bradley Wiggins, head of the media communications department at Webster Vienna, published an article, "Navigating an Immersive Narratology: Factors to Explain the Reception of Fake News," in the International Journal of E-Politics (Volume 8, Issue 3, July-September 2017).
In direct response to the rise in fake news as a socio-cultural and political phenomenon, the article presents an analysis of the factors that may help to explain the reception of fake news.
In addition, recent pronouncements made by the Trump White House seem to challenge the nature of an objective truth. An immersive narratology emphasizes that different universes of discourse can intermingle and overlap, with fact and fiction becoming difficult to distinguish in our increasingly mediated lives.
To read a PDF sample of Wiggins' article, click here.