News Around Webster: Kingston, Welsh, Condon, Hubenschmidt
Recent professional news and achievements for Webster University community members include:
Kington Wins ISA Best Book in Human Rights Prize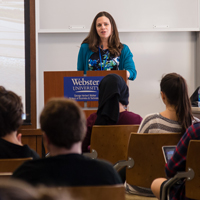 Lindsey N. Kingston won the International Studies Association's 2020 Prize for the best book in human rights. Kingston is a professor of human rights in the Webster University College of Arts & Sciences and director of the Institute for Human Rights & Humanitarian Studies.
Her book, "Fully Human: Personhood, Citizenship, and Rights," was published by Oxford University Press:
"Fully Human: Personhood, Citizenship, and Rights" critically considers how inequalities related to citizenship and recognition impact one's ability to claim so-called universal and inalienable rights. Today, citizenship itself serves to recognize an individual as fully human or worthy of fundamental human rights—yet this robust form of political membership is limited or missing entirely for some vulnerable groups. These protection gaps are central to hierarchies of personhood—inequalities that render some people more "worthy" than others for protections and political membership—that lead to gross violations of the rights to place and purpose that are essential for a person to live a life of human dignity.
Kingston's book presents various manifestations of hierarchies of personhood, beginning with statelessness (the most direct and obvious lack of functioning citizenship) and progressing through the forcibly displaced, irregular migrants, nomadic peoples, indigenous nations, and "second-class" citizens in the United States. It challenges the binary construct between citizen and noncitizen, arguing that rights to place and purpose are routinely violated in the space between. To resist hierarchies of personhood, functioning citizenship necessitates the opening of political space for those who cannot be neatly categorized. Only by recognizing that all people are inherently worthy of full personhood—and by advocating expanded forms of political membership and voice—can the ideals of modern human rights be realized.
Welsh Contributes to AI-Generated 'Prayer' Project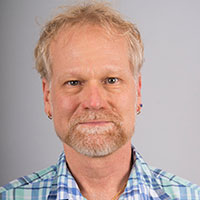 Keith Welsh, chair of the Religious Studies Department in Webster's College of Arts & Sciences, contributed to "The Prayer," a conceptual artwork created by the artist, Diemut Strebe.
Strebe's work is a robot programmed with sufficient artificial intelligence that it can generate its own prayers. Welsh assisted with the collection of prayers from most major world religions which the Intelligence used to "learn" what a prayer is.
"The Prayer" premiered as part of the exhibition Neurones, on art and artificial intelligence, at the Pompidou Centre in Paris in March. Welsh continues to assist Streber in gathering further material so that the robot can learn contemplative meditation.
Condon, Hubenschmidt in Amigos Spotlight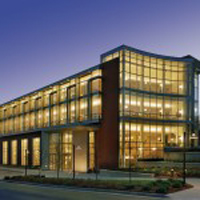 Webster University librarians Elieen Condon and Holly Hubenschmidt were featured in Amigos Member spotlight. Amigos is one of the library consortia that Webster University Library belongs to that helps us negotiate reduced prices on many of our electronic resources and provides professional development on a number of topics relevant to librarians.
In the spotlight, Condon, dean of University Libraries, and Hubenschmidt, Liaison, & Research Services and co-director of Global Leadership Academy share things they've learned about collection building, international library accreditation, building institutional collaborations, as well as some data-driven building changes, adaptations and future plans.