News Around Webster: Ervin, Kracen, McLaughlin, Weiner
Recent professional news and achievements for Webster University faculty and staff include:
McLaughlin Presents at IAGP Congress in Sweden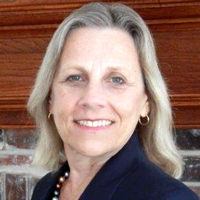 Dorcas McLaughlin, professor in the Nursing Department in the Webster University College of Arts & Sciences, presented a training workshop at the International Association for Group Psychotherapy and Group Processes (IAGP) Congress in Malmo, Sweden. The IAGP is a world-wide network of professionals involved in the development and study of group psychotherapy and group processes.
At the 2018 IAGP Congress, nurses, psychiatrists, psychologists, social workers, counselors and teachers from more than 50 different countries worldwide shared their research, trained in group psychotherapy skills, and exchanged ideas as global citizens.
In her training workshop titled, Group Work for Youth with Complex Trauma, McLaughlin, demonstrated the use of psychodramatic methods to promote emotional regulation, cultivate positive peer relationships and develop resiliency and coping skills with children and adolescents. In 2021, the international IAGP Congress will be hosted in Vancouver, Canada.
Vienna's Weiner Does Sound for 'Noordung's Wien'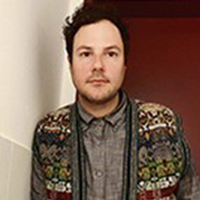 Under the alias Sadie Siegel, Webster Vienna and School of Communications adjunct faculty member Seth Weiner recently completed work on the sound for Ralo Mayer's essayistic film, "Noordung's Wien" as part of the ORF III: Pixel, Bytes and Film program.
In the film, Mayer speculates on the connection between engineer Herman Potocnik's book "Das Problem der Befahrung des Weltraums (The Problem of Space Travel)" and the Prater amusement park as an early instrument for the imagination of space travel and its colonization as well as its relationship to the political context of Vienna in the 1920's.
Weiner's contribution of the soundtrack is a continuation of his artistic research into the ways in which form influences the construction of meaning and temporality; in this case sound being treated as a type of mobile architecture that unfolds in time, manipulating the perception of space, image and argument.
Read more at Webster Vienna. "Noordung's Wien" will air on Sept. 9, on ORF III at 09.55.
Ervin Co-Chairs Salute to Military Events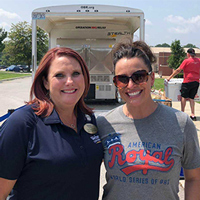 Katie Ervin, director of Webster University's Fort Leavenworth campus location, has been named co-chair of the American Royal's Red, White & 'Que-A Salute to the Military.
Ervin worked with the American Royal and Ft. Leavenworth leadership to host Giving Back to Those Who Give, which provided a free lunch for over 650 service members and their families, Tuesday, Aug. 22.
Now Ervin and her team of volunteers alongside the American Royal are putting the finishing touches on the American Royal's Red, White & 'Que-A Salute to the Military on Saturday, Sept. 15. During the event Prairie Fresh Pork and Operation BBQ Relief (OBR) will be serving a hot meal to honored military guests, as well as VIP BBQ tours for service members and other recognition events.
Read more about these community engagement and charitable events in this story.
Kracen to Speak on 'Fighting Burnout'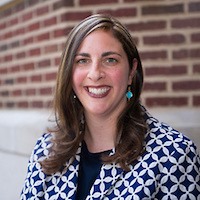 Amanda Kracen, assistant professor in the Department of Psychology in the College of Arts & Sciences, will speak at the "Mindful Medicine and Compassionate Care: Antidotes to Burnout" continuing education workshop at Washington University School of Medicine.
Kracen's talk will be on "Fighting Burnout."
The event is 3:30-5:30 p.m. Thursday, Sept. 27, at the Eric P. Newman Education Center.