News Around Webster: George, Hanssen, Hock, Liberati, MacCartney, Cosic
Recent professional news and achievements for Webster University faculty and staff include:
Hanssen, Hock at Fulbright Conference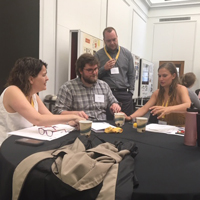 Paula Hanssen and Markus Hock in the Department of International Languages & Cultures represented Webster University at the Fulbright Conference, "Building Bridges: The Fulbright Legacy and the Future of International Exchange" International Conference at the University of Arkansas, May 17-19, 2019.
Hock, the Fulbright German TA at Webster for the past academic year, also took part in a road trip through the Midwest that ended in Fayetteville, Arkansas, organized by the German Fulbright. The participants stopped in cities and towns to experience German culture in the United States, and reported on their findings at the conference in Fayetteville.
The Fulbright ETA program, English Teaching Assistant in Europe, is one of the programs foregrounded. Any students interested should contact Paula Hanssen, hanssen@webster.edu.
MacCartney Chapter Selected for Pride Month
Danielle MacCartney's chapter, "Monitoring the World Society: LGBT Human Rights in Russia and Sweden," is one of several Emerald publications selected to commemorate Pride Month, available for free here for a short time.
See other articles in the series here.
MacCartney is an associate professor of sociology in the College of Arts & Sciences.
George Presents on Care for the Caregiver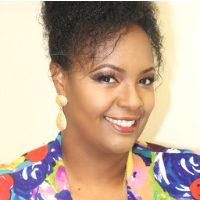 Rebecca George presented to the Columbia, South Carolina, chapter of the National Council of Negro Women.
George's presentation, "Self Care for the Caregiver," addressed issues and challenges caregivers face while stressing the importance of self care as a priority to maintaining mental health.
George is a clinical coordinator in the mental health counseling program at Webster's Columbia Metro campus location.
Liberati Receives Alumni Award for Scholarship
Ryan Liberati has been awarded an Alumni Award for Scholarship from his master's degree alma mater, Bradley University.
Liberati is an associate professor and school counseling director for the Department of Professional Counseling in Webster's College of Arts & Sciences.
Cosic's PIZZICATO Screens at Citygraden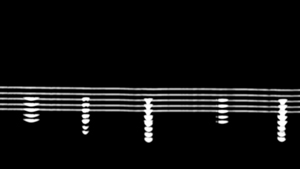 Zlatko Ćosić's video PIZZICATO is screening at the Citygarden, a co-presentation of Cinema St. Louis and Gateway Foundation, May 31-June 30, 2019. Learn more at www.cinemastlouis.org/cinema-at-city-garden.
Cosic is an alumnus, video artist and adjunct faculty member in the Electronic and Photographic Media Department of Webster's School of Communications .