Around Webster: MacCartney, Goedereis in JISE; George, Smith present; GMC ad award
Recent professional news and achievements for Webster University community members include:
MacCartney, Goedereis on Interdisciplinarity in JISE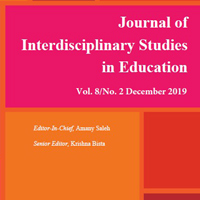 Dani MacCartney and Eric Goedereis published a peer-reviewed article, "Creating Common Ground: A framework for promoting interdisciplinarity," in the Journal of Interdisciplinary Studies in Education (JISE).
MacCartney is associate professor of Sociology, and Goedereis is associate professor of psychology, in the College of Arts & Sciences.
From the abstract:
Growing from an invited workshop on interdisciplinary learning the authors led at their institution's annual faculty retreat, this manuscript offers a framework for encouraging faculty from diverse disciplines to consider and evaluate their teaching, scholarship, and service in interdisciplinary ways. In this paper, we present an application of a process that integrates Repko's (2008) suggested criteria for interdisciplinarians, Doran, Miller, and Cunningham's (1981) conceptualization of S.M.A.R.T. goals, and McCoy and Gardner's (2012) five key social structural components, in order to further cultivate faculty members' identities as interdisciplinarians. We conclude by summarizing participants' comments in order to offer concrete examples of how the workshop yielded specific action plans for faculty members' own interdisciplinarity within their teaching, research, and service activities. Taken together, this process challenges the traditional "silos" of academic work to help faculty reach across disciplinary boundaries. As such, this framework provides a roadmap for faculty and institutions interested in purposefully and meaningfully facilitating interdisciplinarity across a variety of academic settings.
The JISE provides a wide range of peer-reviewed articles, reviewed through a blind review process, that speak to the major issues in education across all content areas and disciplines.
George, Smith to Present on 'Black Girl Glare'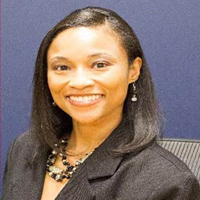 Rebecca George and Alexanderia Smith will present their research at the Eighth Annual Faculty Women of Color in the Academy National Conference in Blacksburg, Virginia, April 20-21, 2020.
Drs. George and Smith, professional counseling program faculty members at Webster's Columbia Metropolitan Campus, have been conducting research on their self-coined phenomenon, "Black Girl Glare."
The presentation will specifically address the impact of internalized racism on black women and ways of overcoming it so that black women are subsequently empowered with a healthier alternative of uplifting and edifying each other.
GMC Earns Higher Ed Digital Marketing Award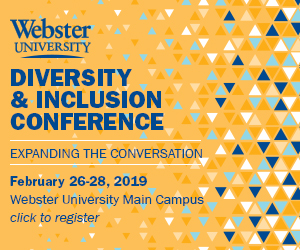 The Global Marketing & Communications team earned a silver award in Higher Ed Marketing's 7th EDM (Educational Digital Marketing) Awards for the online display ad promoting last year's Diversity & Inclusion Conference.
Pictured at left is one version from the series of ads used in digital environments to invite participants to the conference.