News Around Webster: Newsam, Rumenjak, Cosic, Stiles
Recent professional news and achievements for Webster University community members include:
Rumenjak on Freedom of Expression in Multicultural Societies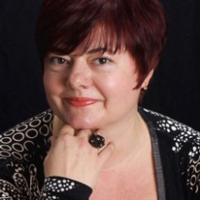 Nives Rumenjak, Webster University lecturer and head of the International Relations Department at the Leiden campus, published an article in the academic journal Empedocles: European Journal for the Philosophy of Communication titled "Freedom of expression in multicultural societies: Political cartooning in Europe in the modern and postmodern eras."
Drawing on the contested phenomenon of political cartooning and heated debates on freedom of expression in the European democracies in the recent decades, the article reveals that the traditional, open discriminatory practices of European cartooning has shifted towards subtle, "liquid" racism in the 21st century. It decodes some of the 12 Danish cartoons as ambiguous strategies of racialization of Muslim immigrants in Europe (as "terrorists" and "others") but also as hate speech, which is illegal in the European Union and member states of the Council of Europe.
Dr. Rumenjak addresses two fundamental issues related to hate speech and free speech in current European Union and the world. Firstly, a truly clear-cut regulation of liquid racism might remain problematic since there is no universally accepted consensus on defining hate speech. Secondly, although European regulations of hate-speech offline and online are ever-increasingly strict, law and public opinion continuously diverge on the issue, which could give rise to new controversies in the years to come.

She will present her current research on visual communication, free speech and politics of freedom in Europe at the upcoming European Social Science History Conference, organized by the International Institute of Social History from March 18-21 in Leiden.
Newsam, Dance Alumni to Perform in France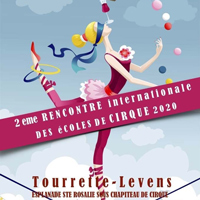 Webster Department of Dance adjunct faculty member Monica Newsam and her sister and collaborator, Graciela, will be performing at the 2nd International Meeting of Circus Schools 2020 on March 21-22.
Monica and Graciela will take two Webster Dance alumni, Mysteria Spellaza and Megan Reed, to do a trapeze performance in Tourette-Levens, France, and proudly represent Webster University and Newsam Aerial Dance.
This event will celebrate circus style dance and those who instruct.
Stiles, Students Present Research on Impact of Refugee Child Family Separation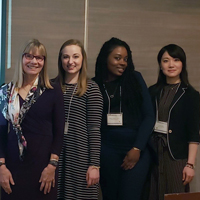 Over a period of several months, 12 Applied Educational Psychology and School Psychology graduate students and Debbie Stiles prepared a report, "The Psychological Impact of Separating Children from their Families; A Report to the House Oversight Subcommittee on Civil Rights and Civil Liberties," which was presented recently in Seattle.
They dedicated the project to the late Elijah E. Cummings, who was a champion for children's rights, needs and well-being. The group sent their report to the House Oversight Subcommittee on Civil Rights and Civil Liberties.
On Feb. 28, graduate students Erica Suchland, Marie-France Castor, Kaori Chaki and Stiles presented a symposium at the annual conference of the Society for Cross-Cultural Research in Seattle, Washington. The conference was co-sponsored by the International Psychology division of the American Psychological Association. Mental health professionals who attended the symposium could earn continuing education credits towards their professional licenses.
Stiles is professor of Applied Educational Psychology and School Psychology in the Graduate Department of Education, and a fellow in the Institute of Human Rights and Humanitarian Studies.
Cosic Films Screen at SLSO event, Ann Arbor Festival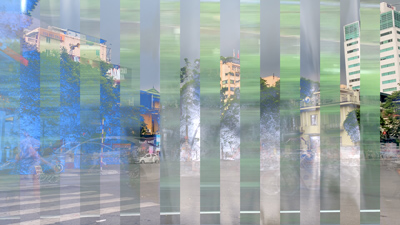 Zlatko Ćosić will have two of his films screened at festivals this month.
SECOND NATURE is a collaboration with the St. Louis Symphony Orchestra for Live at the Pulitzer, Pulitzer Arts Foundation, St. Louis, March 24, 2020.
In 2019, St. Louis-based composer Christopher Stark and the SLSO's violinist Shawn Weil traveled around Asia. They collected sounds and video that has been transformed by Stark and video artist Ćosić into 2nd Nature, a work for violin, electronics and video that receives its world premiere in this performance.
Separately, MOMENTUM, a selection of Ćosić's video art, will screen at Off the Screen!, Ann Arbor Film Festival, Ann Arbor, Michigan, March 25, 2020.
Ćosić is a video artist, Webster alumnus and adjunct faculty member in the Electronic and Photographic Media Department of Webster's School of Communications .