Around Webster: Ralph Schoellhammer, Ted Green, Warren Rosenblum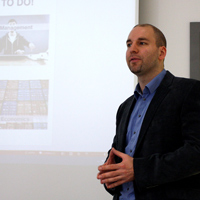 Recent professional activities and achievements by Webster University community members include:
Schoellhammer: Are Voters Rational?
Ralph Schoellhammer, business and management faculty member at Webster Vienna, has published the chapter, "Before Participation: Emotions and Politics" in the book, "Jugend und Politik Generationendialog oder Gesellschaftskonflikt?"
Fitting in a year of presidential elections in Austria and the United States, Schoellhammer's chapter on voting behavior outlines the misperception of political participation as a purely rational act, the role of emotions and morality in group formation and conclude with a section on what this means for contemporary politics in Europe and the United States.
The observation that political participation is not only a means of individual utility maximization is especially important with regards to the youth vote, for young people show a specific tendency to be influenced by emotional appeals in politics. The rise of populist parties and individual political agents like Donald Trump show the strong return of emotions and appeals to identity in competitive electoral systems, and current trends indicate that this development will become more, not less, pronounced in the future.
Schoellhammer's piece provides an overview of current research in this field and emphasis the strong intersection of economics, politics, and psychology – an interdisciplinary phenomenon that overlaps with the research focus of many of Webster's faculty.
Rosenblum on Diversity in Imperial Germany
Warren Rosenblum, professor in the Department of History, Politics, and International Relations in the College of Arts & Sciences, presented "On the Dangers of Diversity: The Feeble-Minded In Imperial Germany" at the conference, "Navigating Diversity: Narratives, Practices and Politics in German-Speaking Europe" at the Université de Montréal and the Université du Québec à Montréal April 13-15.
Green Elected to NCHE Board
Ted Green, professor in the Teacher Education Department of Webster's School of Education, was recently elected to a three-year term on the board of directors at the National Council for History Education's International Conference, which just convened in Niagara Falls, New York.
Green has been involved with NCHE for over 12 years and will serve with other NCHE board members including David McCullough, Elliot West and Cokie Roberts. NCHE is a national advocate for advancing History Education and is headquartered in Cleveland, Ohio.