News Around Webster: McElwee's Laumeier installation, Rodney 'Challenging Racism,' DADAH students win film award
Recent professional news and achievements for Webster University community members include:
McElwee Named Ken and Nancy Kranzberg Artist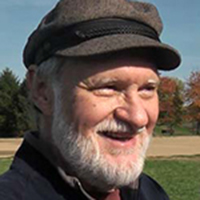 Van McElwee, professor of media production in the School of Communications, has been named the Ken and Nancy Kranzberg Artist at Laumeier Sculpture Park in St. Louis. This generous grant will support the production of Time Fork, an architecturally scaled Augmented Reality installation that will cover much of the park's property. Viewers will use their mobile devices to explore the installation.
A faculty research grant from Webster University will fund additional materials. McElwee has assembled a production team and have begun working toward an October opening.
Rodney on

"Challenging Racism and Injustice"
Basiyr Rodney, associate professor and chair of the Department of Teacher Education in Webster's School of Education, participated in the online discussion on June 19, "Challenging Racism and Injustice," hosted by the Pan-African Ahmadiyya Muslim Association (PAAMA). PAAMA is a subsidiary organization within the Ahmadiyya Muslim Community UK and is comprised of all Ahmadi Muslims of African origin living in the UK.
Underpinned by the Community's motto, "Love For All, Hatred For None," PAAMA is a unique, dynamic and vibrant association serving not only the needs of its members but British society as a whole and the continent of Africa at large.
DADAH Students Win
Spotlight Experimental Category
Department of Art, Design, and Art History (DAHAH) students Bethany Clemens' and Emma Bright's film "Woolgathering" was entered into the Concordia Film Festival June 20-21 and won first place in the Spotlight Experimental Category. The Concordia Film Festival (CFF) is a student-run, non-profit festival that runs in collaboration with Mel Hoppenheim School of Cinema (MHSoC) at Concordia University in Montreal.