Roberts on Arts Entrepreneurship in Oxford Research Encyclopedia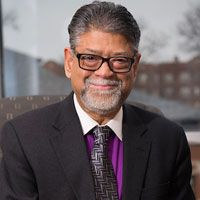 Joseph Roberts had his article, "Arts Entrepreneurship: Education, Theory, and Practice," published an article in the Oxford Research Encyclopedia.
Roberts is professor and program lead for the Entrepreneurship Program in Webster's George Herbert Walker School of Business & Technology, and co-director of the Center for Innovation and Professional Development. The commissioned article was selected for his work in the field of entrepreneurship for more than two decades.
There are no clear definitions of entrepreneurship and art, making explanation and theory on arts entrepreneurship education difficult. Roberts' article explores what artists think about these issues in the United States, India and Mexico, and the business and aesthetic skill sets needed to make a living as an artist. It also shares results from a test of arts entrepreneurship theory through the Coleman Fellows Program.