Search Committee College of Arts and Sciences Dean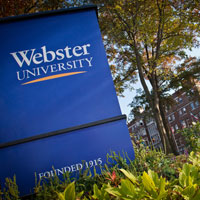 Webster University Provost, Senior Vice President and Chief Operating Officer Julian Schuster has announced the search committee for the position of dean of the College of Arts & Sciences.
Committee members will assist in recruiting and evaluating a strong and diverse pool of academic leaders. The members of the committee were selected through a collaborative effort with faculty members in the College.
Members of the committee are:
Emily Thompson, chair, International Languages & Cultures
Mary Ann Drake, chair, Nursing
Mary Preuss, associate professor, Biological Sciences
Martina Steed, associate professor and director of clinical education, Nurse Anesthesia
Mike Hulsizer, professor, Psychology
Andrew Young, student
Karen Miller, coordinator, English and Philosophy departments
Simone Cummings, associate professor, Management
Eve Coulson, alumna and chair, College of Arts & Sciences Advisory Board
Glen Bauer, professor, Music
Jeanelle Wiley, University Secretary
Muthoni Musangali, associate professor, Professional Counseling
Dave Hilditch, adjunct faculty member, Philosophy
The Search Committee will provide regular updates to the Webster community regarding timelines, interviews and other related matters to the selection process.