Webster Athens Hosts The International Scientific Forum 'The Water'
Webster Athens hosted the International Scientific Forum "The Water" on Dec. 10-11. This Forum was organized by the Center of European Studies and Humanities "Ioannis Kapodistrias" in close cooperation with Webster Athens and under the auspices of the President to the Hellenic Republic on the premises of Zapio, in Athens, Greece.
The Forum targeted several main aims: to provide academics, researchers, representatives of the government and business people a platform where they could share their ideas, present papers and receive feedback about their research. The exchange of ideas seeded links for future collaborations across the various organizations in Greece and in Europe.
This Forum created an opportunity to build relations with other academics and experts in the same or similar field of studies from different parts of the world and to share thoughts and information on recent advances in the field of protection of the environment and water resources.
Webster University was represented by Danielle MacCartney, associate professor of Sociology, Women, Gender, and Sexuality Studies. "As a scholar and instructor of sociology, criminology, and human rights, I study how law and public policy are made, when they go wrong, and when they change the world for the better. I am currently studying the environmental discourse from the United Nations because how we talk about the environment influences and reflects how we feel and act," said MacCartney. "As a professor, I train students to understand science and policy so that they can create better policies to solve global problems, such as access to clean water, which is one of the most serious problems facing the world today and for which we participate in this enlightening Forum."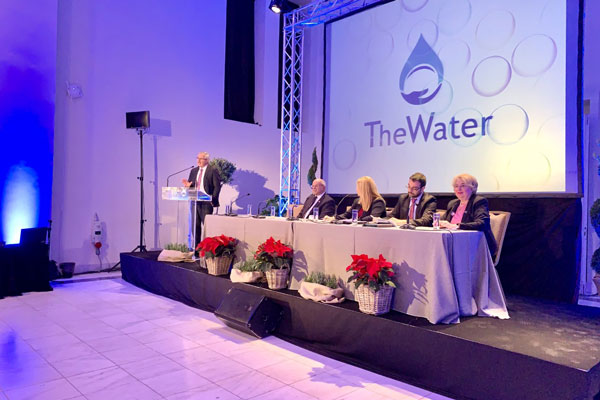 Webster Athens was represented by Susie Michailidis, vice-rector for Academic Affairs, and John Nomikos, head of History, International Relations and Political Science Department.
Michailidis spoke on the issue of hydraulic works, related technologies used in ancient Greece and urban water fields that chronologically extend from the early Minoan and Mycenaean civilizations. All these achievements for water use and protection of the environment in ancient Greece have their transcendent values to our contemporary society.
Nomikos analyzed the concepts of asymmetric warfare and water critical infrastructure in the 21st century stressing, "Water critical infrastructure is recognized as a vulnerable soft target under the categories of sabotage, criminal and terrorist activities." said Nomikos.