International Security Class Visits Migration Headquarters in Athens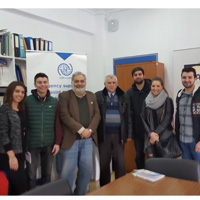 Students in the International Security class at Webster University's Athens, Greece, campus recently had the opportunity to visit the International Organization for Migration headquarters (IOM), where they saw first-hand how the migration issue is progressing on a closer and more personal level due to the many numbers of refugees stranded in Greece.
Greece is the gateway to Europe for many migrants fleeing from war and persecution in their own countries. Syrians, Iraqis, and other refugees pour into Greece on a daily basis, and IOM works hard to provide help and solutions to aid them.
The Jan. 27 visit was arranged by their professor, John Nomikos, who wanted the students to learn about the humanitarian work of the organization and migration management issues for refugees and displaced people.
"Going to IOM helped me realize the importance of assisting the people in need and the way the immigration system works," said Alexandru Draghici, an international relations and business administration student. "It was a pleasure to see how immigrants are treated with respect, receiving food, money, airline tickets, accommodation and even language lessons. This was an eye-opening experience."
IOM has 166 member states, 8 states holding observer status and offices in over 100 countries. The headquarters are located in Athens, Greece, and the organization is dedicated to the promotion of humane and orderly migration for the benefit of humanity.