Webster's 'Odyssey in Athens' Rated a Top Study Abroad Program Athens Study Abroad Program The Odyssey Voted Popular Study Abroad Site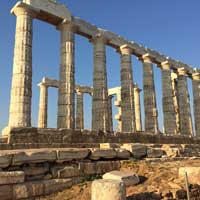 The Odyssey in Athens study abroad program at Webster University's campus in Athens, Greece, was rated a Top Study Abroad Program by the website GoAbroad.com. The rating is based on student reviews of the program.
"This is an incredible recognition, as the website hosts a directory of over 30,000 programs from around the world," said Dina Skias, the director of the Odyssey in Athens program. "We are thrilled our students are having such great experiences and are writing about it. This gives us the encouragement to continue providing a top-quality program and enriching study abroad experience for our students."
The Odyssey in Athens program offers accredited courses with an international or cross-cultural focus in anthropology, business administration, journalism, history, literature, political science and economics, among other topics. Excursions to significant cultural sites in this cradle of Western civilization are a major part of the program for undergraduate and graduate students.
Students study alongside Greek and other international students from Webster campuses and from partner institutions who send their students to study abroad at Webster campuses through the WINS Network program.
For more information about the Odyssey in Athens study abroad program at Webster Athens. Please visit webster.edu.gr/studyabroad/odysseyinathens.
View the GoAbroad top-rated programs here.