Five Gorloks Inducted into the Webster University Athletics Hall of Fame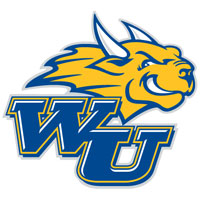 Four student-athletes and a longtime athletics administrator were induced into the Webster University Athletics Hall of Fame Class of 2019 in a ceremony on Feb. 9 at in the University Center Sunnen Lounge.
The 2019 Webster Athletics Hall of Fame inductees include a four-sport female student-athlete, a volleyball player that is the school's all-time leader in assists, a cross country runner that was a multiple time All-St. Louis Intercollegiate Athletic Conference performer, a men's basketball player that is one of the top scorers and 3-point shooters in school history and an administrator that helped grow and foster the success of the Webster athletics department for 19 years.
In addition to inducting five new members into the Hall of Fame, Webster Athletics also bestowed the Athletics Pioneer Award to Ann Washle O'Connell and presented a special appreciation award from the Student-Athlete Advisory Committee to the St. Louis Falcons Special Olympics Basketball team.
These five Hall of Famers were selected by a committee made up of faculty, coaches, and staff. This year's class brings the total Hall of Fame membership to 44. The Webster University Athletic Hall of Fame was established in 2010 to honor those who reflect the Department's mission of success in the classroom, the community, and the arena of competition. Former players, coaches, and other individuals who have made significant contributions to the program, are eligible for selection.

2019 Athletic Hall of Fame Class:
Ann Washle O'Connell (Class of 1960) – Athletics Pioneer Award winner. O'Connell, a native of Louisville, Ky., was a pioneer in women's sports at Webster during her time as a student. She was one of the driving forces behind Webster starting a field hockey team, which played their games in Forest Park against members of the Field Hockey Association and then eventually against other local colleges. During her freshman year, she convinced the head of the athletics department, Helen Comer, who was Webster's first-ever Pioneer Award winner, to start a field hockey team.
Since her graduation from Webster, O'Connell has remained an active part of the school as she has chaired fundraisers, called Pioneer Dinners, for the construction of the Loretto Hilton Theatre. In addition, she served three terms as a member of the Alumni Association Board and has also been an Alumni Reunion chair, an Alumni Student Awards Committee member, an Alumni Homecoming Committee chair and was a recipient of the Mary Elizabeth Newell Award in 2001.
Candace Barry (Women's Cross Country, 2006-08) – Was a two-time First-Team All-St. Louis Intercollegiate Athletic Conference selection in cross country and was just the second ever runner in school history to earn multiple First-Team All-SLIAC honors. In 2006, placed fifth at the SLIAC Championships and then finished seventh at the 2007 SLIAC Championships. In her career, Berry ran in 27 meets for the Gorloks and was the program's top finisher in 20 of those 27 meets and had seven Top 10 finishes and 11 Top 20 placements. She ranks fourth all-time in school history in career Top 20 finishes (11), seventh in career wins (1,469) and has the 10th fastest 4K time (18:27) in school history and the 11th all-time fastest 6K time (23:37). Barry is the second Gorlok women's cross country runner to be inducted into the Hall of Fame. Graduated from Webster in 2010 with a degree in Biology and earned her BSN and MSN from Goldfarb School of Nursing and is currently a school nurse in the St. Louis Public School system.
Tara Fortschneider (Women's Basketball, Women's Soccer, Women's Tennis and Women's Cross Country, 2000-04) – Was a four-sport athlete at Webster as she lettered in basketball and cross country for four years (2000-04), soccer for three years (2000-02) and tennis for two years (2003-04). As a basketball player, Fortschneider stands fifth on the school's all-time scoring chart with 1,084 points and is third in field goals made (426), fifth in starts (85), sixth in assists (268), tied for sixth in games played (103), seventh in blocked shots (50), eighth in 3-point field goals made (87) and ninth in steals (175). Was a two-time All-SLIAC selection in basketball and was a starter on Webster's 2001-02 team that won the SLIAC championship and advanced to the NCAA Division III Sweet 16 where the Gorloks fell 71-61 to eventual national champion Wisconsin-Stevens Point. In 2000-01, Fortschneider was the team's second leading scorer at 11.5 points per game and shot 45 percent from the field, 42 percent from the 3-point line and 73 percent from the free throw line. As a member of the soccer team, she played goalkeeper and holds the school record for saves per game (4.00) and is fourth in career save percentage (.855), fifth in career saves (124) and tied for fifth in career goalie wins (21). She posted a 21-4-2 record in her three years playing in goal for the Gorloks. Was a member of three consecutive regular season SLIAC title teams in soccer (2000-02) and also was a member of three NCAA Tournament teams, including the 2001 and 2002 teams that advanced to the second round of the NCAA Tournament. Fortschneider is the seventh Gorlok women's basketball player, eighth Gorlok women's soccer player, third Gorloks women's cross country runner and first Gorlok women's tennis player to be inducted into the Hall of Fame. Graduated from Webster with a mathematics degree in 2004 and she and her husband, Josh McConnell, are Union Electricians out of IBEW Local Union 934 in Kingsport, Tenn.
Melanie (Klingelhoefer) Bernat (Volleyball, 2003-06) – Was a four-year letterwinner as a setter in volleyball and was also a three-time All-SLIAC selection, including earning first team honors in both 2004 and 2005 and was also named to the SLIAC All-Tournament Team in 2006. Holds the school's all-time records for both assists (3,978) and assists per set (9.61). Also stands 10th in career sets played (414), 11th in matches played (114) and 14th in career aces (111), Recorded a school record 1,310 assists as a junior in 2005 and had 1,219 assists as a sophomore in 2004, which is third in the school's single season chart. Helped lead Webster to three consecutive 20-plus win campaigns, including 22 wins in 2004 and was also a key member of the school's 2005 regular season SLIAC Championship team and the school's 2006 SLIAC Tournament championship team that advanced to the NCAA Tournament for the first time since 1997. Earned her Bachelor's of Business Administration degree from Webster in 2007 and her Master of Arts in Management and Leadership from Webster in 2008. She is currently the Supervisor of Quality Improvement Audits in the Internal Audit Department at Centene Corporation and lives in Belleville, Ill., with her husband, Brian Bernat, who is a former Gorlok baseball player and their two sons, Mason and Dylan. She is the fifth Gorlok women's volleyball player to be inducted into the Hall of Fame.
Ryan Turk (Men's Basketball, 2006-09) – Was a four-year lettermen for the Gorloks men's basketball program and earned First-Team All-SLIAC honors in both 2008 and 2009. Ranks in the Top 10 in numerous career statistical categories, including scoring (8th – 1,188 points), free throw percentage (1st – 82.6 percent), three-point field goal attempts (2nd – 499), three-point field goals made (3rd – 174), assists (4th – 283), free throws made (5th – 228), games played (T-5th – 102), minutes played (6th – 2,454), field goals made (10th – 393) and free throws attempted (9th – 276). His 41.7 three-point field goal percentage in 2007-08 and his 81.8 free throw percentage in 2008-09 are fifth on the school's single-season charts. Was an integral part of Webster's 2007-08 SLIAC Championship squad that was the first-ever team to post a 16-0 record in league play as he led the team in both scoring (14.2 points per game) and assists (3.5 assists per game). As a senior in 2008-09, averaged 18.5 points per game and scored 40 points in his final collegiate game against Westminster (Mo.) College and is one of only two Gorloks to score 40 or more points in the game with the other one being Class of 2010 Hall of Famer Jeff Reis. In addition, as a senior, he led the SLIAC and finished 29th nationally in assist/turnover ratio (2.17). After graduating from Webster in 2009 with a Bachelor of Arts degree in political science, Turk served as an assistant coach for Chris Bunch in 2009-10, before returning to his home state of Colorado to begin a teaching and high school coaching career. Currently, Turk is an English teacher and assistant varsity and head junior varsity basketball coach at Grandview High School in Aurora, Colo. He is the ninth men's basketball player to be inducted into the Hall of Fame.
Dr. Tom Hart (Athletics Administrator, 1991-13) –Served as Webster's Director of Athletics for 19 years before stepping down from that position in 2013. During his 19 years as the school's athletic director, Hart played a significant role in helping to grow and foster the success of the Gorloks Athletic program. Athletics got started at Webster in 1984, but did not have a lot of success those first 10 years, but all that changed under Hart, who came to Webster as a volunteer assistant men's basketball coach in 1991 and then was named the school's head men's basketball coach and coordinator of athletics and recreation in 1992. Among some of Hart's accomplishments at Webster include:
53 SLIAC Conference Championships (there were none prior to 1994)

43 NCAA Tournament Appearances (there were none prior to 1994)

Nine consecutive SLIAC All-Sports Awards and 13 out of 14 during his tenure (Webster has now won 17 of 20 all-time SLIAC All-Sports Trophies that have been awarded)

7 new teams started, representing a 50 percent increase in the number of varsity intercollegiate athletic teams

Helped foster a dramatic improvement in the overall GPA, retention and graduation rates of Webster's student-athletes

Nearly 50 student-athletes were Academic All-Conference during his final year as the athletic director in 2012-13

Helped make huge improvements in the arrangements for off-campus athletic facilities

Served as Chair of the Division III Men's Basketball National Committee

Served as the SLIAC President a few times and during one tenure as president, worked closely with others to help obtain the automatic qualifier status for the conference and its athletic teams

All but one of Webster's current athletic team head coaches were hired by Hart, and in fact, with the exception of several new hires since 2013, almost all of the current members of Webster's athletic department staff during hired by Hart.

Helped raise money for Webster Athletics by beginning the annual Gorlok Open Golf Tournament

Earned SLIAC Coach of the Year honors in both men's basketball and men's golf.
Hart, who earned his Doctorate in Management from Webster in 2013, is currently serving as the Commissioner of the USA South Athletic Conference, which is an NCAA Division III conference that features 18 institutions and spans from Virginia to Alabama. Hart and his wife, Debbie and their two children, Abby and Joshua, live in Rome, Ga. He is the fourth administrator to be inducted into the Hall of Fame.