Pack the House for Gorlok Basketball, Alumni Hall of Famers Feb.4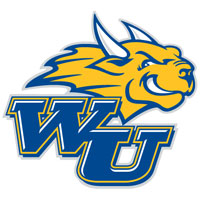 Webster University, it's time to pack the house.
Come cheer on current students, salute some great alumni and wear your blue and gold on Feb. 4 as the women's and men's basketball teams each face Iowa Wesleyan.

There will be giveaways, and snacks will be provided in the Athletic Lobby at the women's halftime and between the games.
Women's basketball begins at 1 p.m., and the men's game begins at 3 p.m.
Athletics Hall of Fame Class
Webster University Hall of Fame Class of 2017 will be honored during halftime of the Men's Basketball game. The Webster University Athletic Hall of Fame was established in 2010 to honor those who reflect the Department's mission of success in the classroom, the community and the arena of competition.
Christy Capkovic '11, Soccer
Megan ( Niederschulte) Garrett '11, Soccer
Darin Hoggatt '08, '10, Basketball
Katy Meyer '11, Basketball
Will Savage '10, Baseball
Also, alumna Liz Morren Baine BA '62 will be honored with the 2017 Pioneer Award.
Alumni and others can RSVP online through the alumni portal to come cheer on the Gorloks!