Women's Tennis Team, Eight Members Earn ITA Academic Awards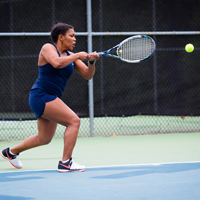 For the fourth consecutive year, the Webster University women's tennis team earned the Intercollegiate Tennis Association (ITA) 2016-17 All-Academic Team award. Eight individual team members were also named 2017 ITA Scholar Athletes, tying a team record.
The women's tennis team had an excellent 3.70 team grade point average (GPA) for the 2016-17 year, just a shade under the team's 3.71 GPA for 2015-16. To qualify for the ITA All-Academic Team Award, full team rosters must maintain a 3.2 GPA for the academic year.
The Webster women's ITA Scholar Athletes all earned the awards by maintaining 3.5 or higher GPAs for the 2015-16 academic year. In order to earn ITA Scholar-Athlete status a player must also be a varsity letter winner and have been enrolled at their school for at least two semesters. The eight individual recipients is the most recognized in a single year in team history, tying with last year's squad, which also had eight ITA Scholar Athletes.
Those qualifying for Webster were:
Chelsea Foster, senior, St. Louis, Missouri (McCluer North HS)
Stephanie Lass, junior, Lake Villa, Illinois (Lakes Community HS)
Brianna Pagan, junior, St. Louis,

Missouri

(Washington HS)
Sara Rice, sophomore, Mahomet, Illinois (Mahomet-Seymour HS)
Jesse Steffens-Willis,

junior

, St. Louis,

Missouri

(Rockwood Summit HS)
Jordan Struckman,

junior

, O'Fallon,

Missouri

(Francis Howell HS)
Madison Watts,

sophomore

, Rogersville,

Missouri

(Logan-Rogersville HS)
Jessica Wright,

senior

, Orange, Australia (Webster University Geneva)
Lass was an ITA Scholar Athlete for a third straight year, and Rice, Steffens-Willis, Struckman, and Watts earned their second straight award.
Webster has earned the All-Academic Team Award six of the past eight seasons. The Gorloks were one of two teams in the St. Louis Intercollegiate Athletic Conference to qualify for the award in 2017, with Principia College joining them.
Learn more at the Webster University Athletics site.