Sophomore Jacob Ridenhour 2nd in the Nation in 200 Meter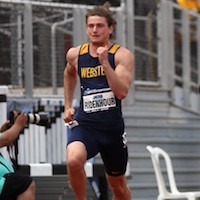 Webster University sophomore Jacob Ridenhour capped off his outstanding 2019 campaign by finishing runner-up in Saturday's 200-meter dash at the 2019 NCAA Division Track and Field Championships.
Ridenhour, who ran the fifth fastest qualifying time in the 200 meters in Thursday's preliminaries, recorded a school record time of 21.07 to finish the race in second place and earn National Runner-up honors.
With his second place finish, Ridenhour made history as he becomes the first-ever All-American in men's track in Webster University Athletics history. His performance also gave Webster eight points in the meet as they finished tied for 34th place, the first time Webster had ever scored in track and field at the National Championships.
This was the second time this school year that Ridenhour competed in the NCAA Division III Track and Field Championships; he previously qualified during the indoor season in the 60-meter dash at the NCAA Championships, where he finished tied for 11th overall.
During the outdoor season, Ridenhour set new school records in the 100-, 200- and 400-meter dashes and also ran on the school's two relay teams, 4-x-100 and 4-x-400, which set new school marks.