Webster University Volleyball Earns Ninth Straight AVCA Team Academic Award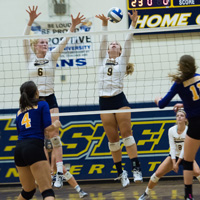 The 2016 Webster University women's volleyball team was recognized by the American Volleyball Coaches Association (AVCA) with a Team Academic Award. It was the ninth straight year Webster has earned the award. The Gorloks raised their team grade point average (GPA) for a third straight year, maintaining a lofty 3.64 for 2016-17.
"I'm proud of the academic achievements of the team," said head coach Merry Graf. "The players understand the importance of their work in the classroom and they have raised the bar again with an impressive GPA. We strive to be successful on the court, in the classroom, and active in our community...these are all important to the culture of our program."
The Gorloks exceeded the 3.58 GPA the team posted in 2015-16 while earning the award. Their GPA for the year places them in the top 25 of all NCAA III volleyball programs. Webster was one of five St. Louis Intercollegiate Athletic Conference programs to be recognized and one of 150 nationwide, of over 400 NCAA III volleyball programs, to receive the award. The Gorloks had an impressive 11 players earn St. Louis Intercollegiate Athletic Conference 2016 Fall All-Academic honors for having cumulative GPAs over 3.5.
Webster was one of only 11 NCAA III Team Academic Award recipients that reached its "Dig Pink" fundraising goals through the Side-Out Foundation. The 2016-2017 season saw "Dig Pink" participants and AVCA Team Academic Award winners raise $91,671 for breast cancer research.
The Team Academic Award, initiated in 1992 by the AVCA, recognizes teams who have 'matched their dedication to the sport of volleyball with excellence in the classroom.' Teams must maintain at least a 3.30 cumulative team GPA on a 4.0 scale for the year.
Webster was 13-5 in the SLIAC in 2016, finishing third in the conference. Graf will begin her 17th season this fall and is a four-time SLIAC Coach of the Year recipient.
Learn more at the Webster University Athletics site.