Webster Professor Receives Fulbright-Hays Grant to Improve Curriculum about Africa
ST. LOUIS - The U.S. Department of Education awarded a Fulbright-Hays Group Projects Abroad program grant to Webster University Professor Emmanuel Balogun. Balogun will lead a group of K-12 administrators, teachers, and higher education faculty to Ghana to study the history, culture, and politics of Ghana through the lens of pan-Africanism. The goal of the project is to help educators create the curriculum for K-12 and college students that centers the knowledge, experiences, and perspectives of Ghana and Africa more broadly and to develop a St. Louis-based organization that will continue the work after the study has completed.
The project is expected to last 18 months.
Learn more: Visit the program website here. Applications for high school teachers to join this program are due Feb. 29. Travel to Ghana by participants will take place May 21-July 3, 2020.
"In most U.S. classrooms, discussions about Africa are often limited to the enslavement of people of African descent, the imposition of European colonialism, and underdevelopment," said Balogun, who holds a Ph.D. in political science and international relations and currently teaches as an assistant professor of international relations at Webster University. "Through this project, I hope to help change the narrative about Africa in the classroom and in our communities so that students will learn that the economic, social, and political perspectives of Ghana and Africa are critically important to understanding world history, politics, and art."
Balogun was informed on Sept. 13 that the U.S. Department of Education's Office of International and Foreign Language Education had funded the study.
Titled "Pan-African Expressions of Knowledge Creation, Socio-economic Conditions, and Politics in 21st century Ghana," the project will include an in-depth review of the history, politics, culture, and society of Ghana. Pan-Africanism is a movement for advancing the solidarity of people of African descent who now live all around the world. The term was first coined in the mid-18th century. Ghana was selected for the cultural focus in part because Webster University has a campus in the capitol city of Accra.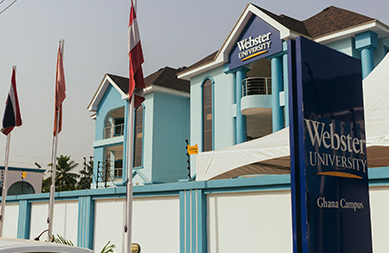 During the study, 10 instructors and administrators from St. Louis-area schools and universities will review and collect artifacts, photographs, books, documents, and other resources that could be used in a classroom; work to develop and/or enhance African-focused curriculum at the K-12 and undergraduate levels; and explore strategies to increase the cultural competency of American educators and students.
Six weeks of the study will be spent traveling in Ghana to learn about that nation's culture and society through an immersive experience. Included in the planned itinerary are community engagement visits in the Ashanti and Volta regions, curriculum exchanges with several high schools and universities in the country, and a visit to the Cape Coast slave castles, which housed European colonial administrators and held enslaved people captive prior to their involuntary transfer to Europe and the Americas. The trip is planned for the Summer of 2020.
By the end of the study, the participants will create new units on Ghana and Pan-Africanism, which they will feature in their curriculum and share with other educators regionally and nationally.
The participants also hope to launch the St. Louis African Studies Consortium of K-16 educators to promote further development of African area studies in the greater St. Louis area and to expand opportunities for cross-cultural exchange with study-abroad students from West Africa.
The total cost of the project is $146,995. The Fulbright-Hays Group Projects Abroad program grant will fund $99,964 (68%) of the project while the remaining $47,030.72 (32%) will be supported by Webster University.
For more information about Professor Balogun, visit http://www.webster.edu/arts-and-sciences/faculty/balogun.html, or follow him on Twitter at @ea_balogun.
With its home campus in St. Louis, Missouri, USA, Webster University (www.webster.edu) comprises an action-oriented global network of faculty, staff, students and alumni who forge powerful bonds with each other and with their communities around the globe. Founded in 1915, Webster is a private non-profit university with students studying at campus locations in North America, Europe, Asia and Africa and in a robust learning environment online. The university is committed to ensuring high-quality learning experiences that transform students for global citizenship and individual excellence.