Baseball Players Earn All-American Honor, Pitcher of the Year
Webster University students Josh Fleming and Kyle Uhrich have received national recognition for their performances on the baseball field this past season. D3baseball.com named Fleming the 2017 Pitcher of the Year, as well as placing him on their All-American First Team; Uhrich was named a Third Team All-American for a second straight year. The American Baseball Coaches Association (ABCA)/Rawlings All-America Team named Fleming a First Team selection at pitcher and Uhrich a Second Team choice at utility.
Josh Fleming
Fleming, a junior from Columbia, Illinois, becomes the first pitcher in Webster history, and the first from the St. Louis Intercollegiate Athletic Conference (SLIAC), to earn the d3baseball.com Pitcher of the Year award. He is also just the second Webster player to be named to the d3baseball.com All-American First Team, after Taylor Stoulp was honored in 2014.
Fleming is just the second player from Webster to make the ABCA/Rawlings First Team, with Will Savage earning the only other selection for the Gorloks in 2010. Fleming is now eligible for ABCA/Rawlings 'Player of the Year' consideration, which will be announced June 28.
Fleming was 8-1 in 2017, with an NCAA III-leading earned run average of 0.68. In 92 2/3 innings of work, Fleming allowed just 54 hits and walked 12 while striking out 115. He set Webster single season marks for ERA and strikeouts, and allowed the second lowest batting average for opponents (.165). Fleming has the lowest career ERA in team history (1.92), is second in strikeouts (251), and fourth in win (19).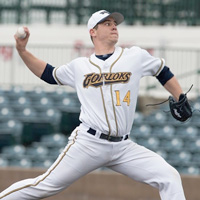 Kyle Uhrich
Uhrich, a senior from St. Louis, was recognized for a third time by d3baseball.com. In his three years as a Gorlok, as he was an All-American Honorable Mention in 2015 as well. Uhrich earned the honor this year as a utility player, being a double threat on the mound and at the plate for Webster.
Uhrich earned his second selection to the ABCA/Rawlings Second Team, also being named in 2015, and becomes the first Gorlok to make the All-America Team two different years.

Uhrich was 7-3 with four saves and a 2.29 ERA in his first full season of work on the mound. In 59 innings he allowed just 26 hits while striking out 90. Uhrich smashed the Webster record for lowest batting average for opponents in a season at .131, besting the mark of .172 set by Will Savage in 2010. At the plate, Uhrich batted .288 with 12 doubles, four triples, six home runs, and 30 RBIs. His career 34 home runs are the most in Webster history and he finishes second in RBIs (140) and sixth in doubles (38), in just three seasons at the plate.
Learn more about athletic programs at the Webster University Athletics site.