Gorlok Baseball Extends Win Streak to Eight Games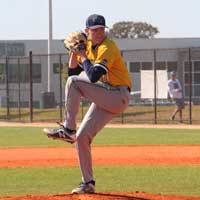 AUBURNDALE, Fla. - Webster University used a six-run second inning here Friday morning en route to posting a 12-5 victory over 24th-ranked Wheaton (Mass.) College in its sixth game of the RussMatt Central Florida Invitational at Lake Myrtle Park.
With the victory, Webster extends its win streak to eight straight games and improves its record to 9-2 overall, while Wheaton falls to 4-6 on the year.
In Friday's win, the Gorloks collected a season high tying 12 runs on a season high tying 14 hits, including three hits from sophomore first baseman Kyler Kent (Pottsboro, Texas/Pottsboro), while senior centerfielder Conner Wardlaw (Arnold, Mo./Jefferson College), senior left fielder Mike Wick (Bartlett, Ill./Bartlett), freshman third baseman Ben Swords (Freeport, Ill./Freeport) and freshman shortstop Matt Staker (El Cajon, Calif./Saint Augustine) each had two hits in the win.
With its 14 hits against the Lyons on Friday, Webster has now recorded double-figure hit totals in six of its last seven games, including in five of its six games at the RussMatt Central Florida Invitational.
While its offense was strong, the Gorloks also got strong pitching in Friday's win as freshman Sean Beaver (San Diego, Calif./Scripps Ranch) made his first career start and pitched into the fifth inning and another freshman, Jake Anderson (Bolingbrook, Ill./Bolingbrook), pitched the final 4.1 innings and allowed just one hit and no runs to improve his record to 2-0 on the year. Anderson also walked two and fanned three in his 62-pitch outing out of the bullpen.
In his first career collegiate start, Beaver allowed nine hits and five runs (four earned), while walking one, hitting one and fanning a career-high seven in his 78-pitch outing.
Wheaton took advantage of an error, a double and a single in the bottom of the first inning to take a 1-0 lead.
The Gorloks, though, would send 11 hitters to the plate in the top of the second inning and score six runs off of five hits and three Lyon errors. In the inning, sophomore designated hitter Mark Melville (St. Louis, Mo./NW Missouri State) led off with a walk and moved to second on a single by Wick and after Swords reached on an error to load the bases, Webster would get its first run on a passed ball to tie the game. Junior second baseman Danny Strohm (St. Louis, Mo./Greenville University) followed with a 2-run double to left to give the Gorloks a 3-1 lead. Staker would follow with an RBI single to left to give Webster a 4-1 lead and the Gorloks would add its final two runs thanks to a throwing error by Wheaton shortstop Chris Ruocco that allowed two runs to score and give Webster a 6-1 lead.
Webster pushed its lead to 7-1 in the third inning as Swords reached on a lead-off double to right center and he later would steal third and score on an error on a failed pickoff attempt by Wheaton catcher Nick Raposo.
The Lyons would find the scoreboard in the bottom of the third as they used five hits, including a double and four singles, to score three runs and drop Webster's lead to 7-4.
Wheaton would pull within two runs at 7-5 in the fifth inning thanks to a single, a double and sacrifice fly off the bat of Trevor Marques off of Beaver. The next Lyon hitter, Ruocco, drew a walk that chased Beaver from the game.
The Gorloks added five runs to its lead in the sixth inning to push out to a 12-5 advantage. In the inning, junior right fielder Nate Tholl (Tinley Park, Ill./John A. Logan CC) and Kent reached on back-to-back singles to open the inning and sophomore Adam Lovell (Lafayette, Ind./Saint Joseph's College) pinch hit and dropped down a bunt that the Lyons misplayed for an error that allowed Tholl to score the first run of the inning. Following Lovell's bunt, Wick hit a 2-run single up the middle and after Swords reached on a double to put runners on second and third, Strohm brought home his third run of the game on his sacrifice fly to center and Staker would bring home the final run of the inning on his single to right center.
From the point, the teams would fail to record another hit until the eighth when Ruocco reached on a single to lead off the frame. That would be the only hit over the remainder of the game.
Wheaton finished with 10 hits as Bryant Salkind went 3-for-4 with 2 RBIs, while Marques added two RBIs in the loss.
Patrick Arter (1-1), who started for the Lyons, took the loss on the mound as he pitched three innings and allowed eight hits and seven runs (3 earned runs), while walking two and fanning four.
The Lyons finished the game with five errors that led to seven unearned runs scored by the Gorloks. Webster committed one error and turned one double play.
Webster will conclude its spring break trip to Florida on Saturday, March 17 as they face 26th-ranked the University of Wisconsin-LaCrosse in a 9 a.m. EDT game at Lake Myrtle Park.
Follow all the Gorlok sports action at Webster University Athletics.