STL Bee Blitz Attracts More than 60 Community Scientists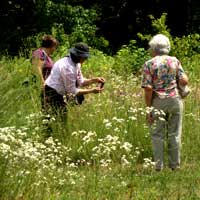 ST. LOUIS - More than 60 members of the public came out to Forest Park Saturday to help with a photographic survey of bees this past weekend. The event was the first STL BeeBlitz, and was organized by Biology Professor Nicole Miller-Struttmann, with help from the St. Louis Zoo, Forest Park Forever, Saint Louis University, Academy of Science – St. Louis, BeeSpotter and the STL Bee Brigade.
"This was a tremendous success and demonstrates the high interest the community has in science," Miller-Struttmann said. "The data the volunteers collected will help us determine the number of bee species found in the park, as well as a general idea about population size, depending on how many photographs are captured throughout the day."
Members of the public arrived at the Forest Park Visitors' Center at 10:30 a.m. Saturday where they heard a short explanation of the day's events from Miller-Struttmann. The volunteers were split into five teams. Each team was assigned a different area in the park where wildflowers were known to grow. They were instructed to have each volunteer identify a six-foot by six foot area of wildflowers and try to photograph every bee seen in those plots during a 10 minute period. Each volunteer was asked to survey at least three plots during the day.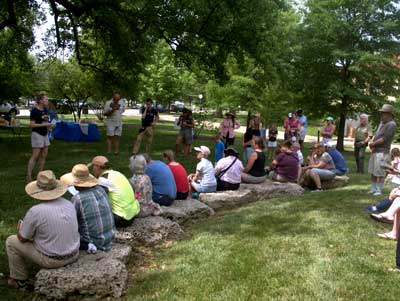 Once finished, the photos were uploaded to a database of bee photos at the University of Illinois Urbana-Champaign. Along with each photo, the volunteers were asked to show a general location of where the bee was found on a map and other general information. Biologists later looked at the photos and tried to identify each species. A report was then sent back to the photographer with feedback from the biologists about bee identities as well as helpful hints that could improve future identification.
The event was part of a national study of bee populations at the University of Illinois. Similar events were also held in Illinois, Indiana and Ohio Saturday.
Miller-Struttmann is hoping to have another STL BeeBlitz in the fall. She also hopes that individual photographers will start snapping photos of bees in their neighborhood on a consistent schedule and uploading those photos, to further help document the health of bees in St. Louis.
To learn more about the project, or to become a bee spotter, visit beespotter.org/stlbeebrigade or https://sites.google.com/view/millerstruttmann/outreach. Watch a video of the day's events below: