Department of Dance Presents 'Inbetween', a BFA Choreographic Concert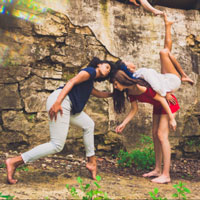 Webster University's Leigh Gerdine College of Fine Arts Department of Dance presents 'Inbetween'. The concert showcases original choreography of senior BFA candidates Jaqueline Edwards, Claire Francescon, Megan Reed, and Dorianne Thomas. 'Inbetween' runs Dec. 6 and 7 at 7:30 p.m. as well as Dec. 8 at 2 p.m. The performance is located in Webster's Stage III, the lower level of Webster Hall, 470 E. Lockwood Ave. The concert is free and open to the public, however, donations are accepted.
For more information, call the Fine Arts hotline at 314-968-7128.
For more information on the Department of Dance: call 314-246-7747, email dance@webster.edu, or visit the department website at www.webster.edu/dance.
Artist Biographies
Jaqueline Edwards first began dancing in Lehigh Valley, Pennsylvania under the instruction of Fran Evers. Since then, Jaqueline graduated from the Lehigh Valley Charter High School for the Performing Arts directed by Kim Maniscalco. Now she is currently in pursuit of a degree in dance at Webster University and has studied under teachers such as Alicia Graf-Mack, Beckah Reed, Betsy Brandt, James Robey, Michael Uthoff, and Maggi Dueker. She has also had the pleasure of performing works from Gary Hubler, Nejla Yatkin, Cleo Parker Robinson, Eve Mason, the Big Muddy Dance Company, and the Jose Limon Dance Company. While at Webster, Jaqueline has had the opportunities to study in Geneva, Switzerland and Puebla, Mexico. In May, she will receive her BFA in Dance with an emphasis in Modern and will continue to share her dancing.
"Within my work, I am particularly interested in the human experience," Jaqueline explains, "I explore the simple and complicated facets of life through organization and reconstruction of movement that facilitates 'humanness' rather than a presentational show. I am consistently searching for contradictions and realness but hope that the viewers find personal meaning and connections."
Claire Francescon, born and raised in Nashville, TN, began her formal dance training in the Tennessee Metro Arts system, but moved to Second Story Studio after her first teacher opened the small Nashville Studio. Claire had some exciting opportunities in Nashville such as performing for the First Night Awards, Women's Work, the Hoodie Awards and some music videos for Sugar and the Hi-Lows and the Lonely Biscuits. At Webster, she has had the chance to work with many artists such as Heather Sultz, Alicia Graf Mack, Cleo Parker Robinson, James Robey, Maggi Dueker, Michael Uthoff, and Beckah Reed. She has also worked with European artists Ramon Moraes, Graciela Acedo, Estelle Bovay, Vittorio Bertolli, and Luciana Reolon at Webster University's Geneva, Switzerland Campus during the summer of 2018 where she studied European contemporary dance. Claire has had the privilege to perform in WUDE, the BFA Concerts, Creations Concerts, and at the American College Dance Association Regional Conference. Claire will graduate in May 2018 with a BFA in dance with an emphasis in Modern. She thanks her family for their undying support.
Claire reveals, "In my work I seek the day to day actions of humanity that can be translated into dance because they are the most natural movements. I, also, seek the human condition and try to address, understand, and replicate the things that "man" cannot control, such as love, hate, judgement, bliss, etc."
Megan Reed was born and raised in the St. Louis area and began her dance training at DeNoyer Dance Studio under the direction of Sharon McGuire, at the age of three. She studied ballet, tap, jazz, modern, lyrical, contemporary and hip hop while performing competitively with her studio. She also performed with the nationally ranked Seckman High School dance team. She is currently pursuing a BFA in dance with an emphasis in Modern and plans to graduate in the spring of 2019. While at Webster, Megan has had the opportunity to work with Alicia Graf-Mack, Monica Newsam, Beckah Reed, Maggi Dueker, James Robey, Heather Sultz, Eve Mason, Cleo Parker Robinson and many others through classes and performances with the Webster University Dance Ensemble.
Megan states, "As people, we are affected by our environment. For my works, I'm interested in exploring the relationships we have with both ourselves and those around us. In working with my dancers, we discussed different relationships they've had in their lives to create a more relatable experience for them rather than performing as a character."
Dorianne E. Thomas grew up in Chicago, IL. She began her formal dance training at Mayfair Academy of Fine Arts at the age of three. Dorianne spent many of her summers studying dance. She has attended Blue Lake Fine Arts Camp (Twin Lake, MI), The Alvin Ailey American Dance Theatre Summer Intensive (New York City, NY) and in the summer of 2018 she studied European contemporary dance and ballet abroad at Webster University's campus in Geneva Switzerland. Apart from the faculty at Webster, Dorianne has had the pleasure of working with Nejla Yatkin, Cleo Parker Robinson, Eve Mason, Judine Somerville, Ramon Moraes, Graciela Acedo, Estelle Bovay, Vittorio Bertolli, and Luciana Reolon. Upon graduation, Dorianne will receive a BFA in Dance, with an emphasis in Ballet. She would like to thank her family for their continued love and support.
"This process allowed me to express simplicity, grace, beauty and strength. While at Webster I found that moving my body has become therapeutic for my soul and my entire being. For this concert, I created three works which embody events, thoughts and ideas that have taken a toll on my heart and mind for a while. I utilize Jazz music by John Coltrane for two of my works. This music choice is purposeful and relative to the movement I developed, and the specific emotions that come along with it. I want the audience to feel moved by what they see when watching my work and relate to it personally," said Dorianne.