BFA Exhibition Opening Reception April 29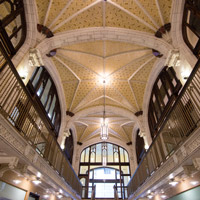 The BFA Exhibition is an opportunity for the bachelor of fine arts majors emphasizing in both Studio Art and in Graphic Design to display their senior thesis work. This year the Department of Art, Design & Art History is excited to debut the exhibition at The Arcade Museum at the Gateway Campus in downtown St. Louis.
The opening reception is Friday, April 29, 7-10 p.m.
During the the BFA exhibition, the Cecille R. Hunt Memorial Award for BFA in Art and the W. John Hilgert Award are awarded. Please join us to appreciate the students' work and take part in this end-of-year celebration!
Congratulations to our 2016 BFA class: John Bropst, Jeanine Chan, Grace Cohen, Camerron Estes, Jessica Ferguson, Elliot Head, Destini Johnson, Ashley Klenke, Jara Olsen, Ana Sholla, Evan Smith, Emily Stafford, Joe Urso, Ashley Webelhuth and Riley Williams.
With gratitude for their support: Michele C Catering and Events, and Kräftig