Biological Sciences Department Donates PPE to Mercy Hospitals to Aid Healthcare Workers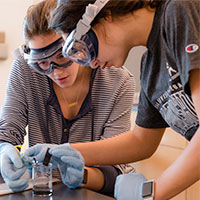 The Centers for Disease Control and Prevention (CDC) has set strict recommendations for healthcare personnel caring for patients with confirmed or possible COVID-19.
In support of the urgent nationwide need for personal protective equipment for those working on the front lines of the coronavirus testing and treatment, Webster University's Biological Sciences Department has donated their unopened stock supply of N-95 masks, goggles, gloves and disposable lab coats to Mercy Hospitals in St. Louis.
Biological Sciences students pursuing degrees in biology, exercise science, chemistry, environmental management, and science management and leadership take part in labs that require use of this personal protective equipment, commonly referred to as PPE, to minimize exposure to hazards that cause serious injuries and illnesses. Like all students at the home campus and other global and extended campuses, Biological Sciences students are also currently taking courses for the Spring 2 semester online.
"We were hearing about dire needs in the medical community for PPE, and immediately moved to get whatever useful materials we had to those health care workers," said Mary Preuss, chair of the Biological Sciences Department.
#FindtheMasks and #GetMePPE
In response to the PPE shortage, a group of scientists, engineers, and medical professionals in the U.S. have created an initiative called PPE Link, and have set up the website #FindtheMasks, asking research labs, private and public research institutions, and academic institutions to donate PPE to help keep healthcare workers—and the people they come into contact with—safe.
Additionally, frontline healthcare workers in the U.S. treating COVID-19 patients without adequate protective gear have taken to Twitter to ask for help and put pressure on elected leaders to get them more gear to guard against the coronavirus, using the hashtag #GetMePPE.