From Beijing to Webster Groves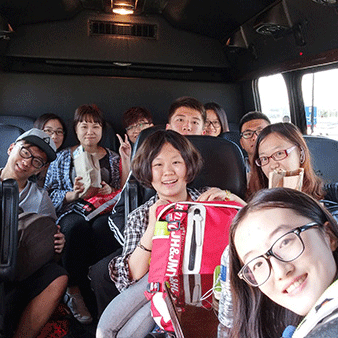 ST. LOUIS (August 28, 2015) – As the semester begins and new students navigate the Webster Groves campus for the first time, a group of 21 students from Beijing, China are preparing to call Webster University "home" for the next two years. The students, from Beijing Language and Culture University (BLCU) are here for a dual enrollment program.

All have completed two years of work at their university in China and are completing their undergraduate degrees on campus in St. Louis. Once they have completed their degrees, they will receive two diplomas, one from BLCU and one from Webster University.

The partnership came from the strong relationship between BLCU and Webster University's Confucius Institute. BLCU is one of Webster's partner universities in China. Students from BLCU are studying Media Communications, International Relations and Management. The classes they attended in China were taught in English.

Deborah Pierce, director of the Center for International Education and Webster University's Confucius Institute, met with the students twice in China to prepare them for their time in St. Louis. Rick Foristell, the director of the Webster University campuses in China also met with the students to help them through the application process and give them insights into American culture. While on campus, students will also receive assistance from Academic Advising and the Multicultural Center and International Student Affairs office.

"The Academic Advising staff has worked with our colleagues from Webster's China campus, the Center for International Education, International Admissions, the Global Citizenship Program Committee and Beijing Language and Cultural University itself to evaluate what these students bring in from BLCU and how it fits in with our majors and requirements," said Kim Kleinman, director of Undergraduate Advising. "Together we have looked over transcripts, course descriptions, and our undergraduate catalog to help chart a realistic course for each of these students. We look forward to building on this model for other cohorts of students from around the world."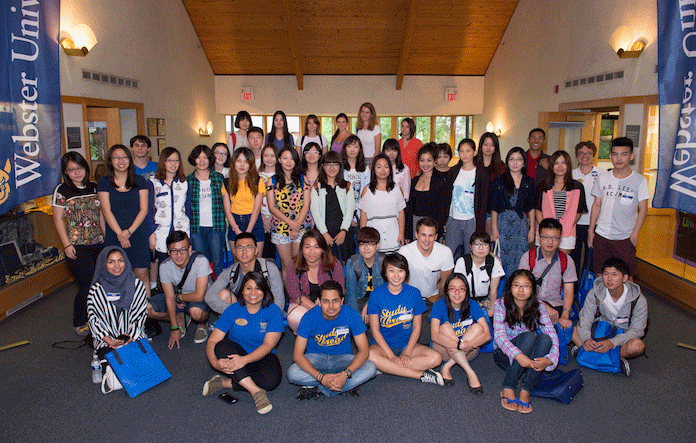 Students are living close to campus at a nearby apartment complex and are working with the Multicultural Center and International Student Affairs to transition successfully to life in America.

"There are numerous benefits to this program – not only for the students coming here from China but for the students here in St. Louis," said Pierce "Hopefully our American students will get to know the Chinese students and it will get our students interested in taking Chinese language and culture courses here at Webster and also think about doing study abroad there. For the Chinese students, it provides them with the opportunity to study in the United States, improve their English skills and attend courses that they might not have had access to in China."

Runze (Lucy) Cao is studying International Relations through the program and says that while there are differences between classes in Beijing and St. Louis, she's enjoying Webster, an opinion shared among other BLCU students.

"Everyone here has been very nice," said Cao. "My advisor Kim pushed this program and then so many others like Debbie Pierce helped make it come true. I'm able to learn about things we might not have discussed in China and we have enough freedom to discuss topics related to the course during class."

Webster University operates programs in three cities in China, including Beijing, Shanghai and Chengdu. Webster has been in a cooperative agreement with BLCU since 2007 in a program that allows undergraduate students to study at BLCU. The Shanghai Joint MBA Program with Shanghai University of Finance and Economics has graduated more than 1,500 students from the program since its start in 1996. The Chengdu Joint MBA with University of Electronic Science and Technology China is 12 years old and is the only international non-Chinese language MBA program in all of west and southwest China.

In 2013, Webster University also entered into an agreement with Harbin University in China to build a program that will allow students in China studying to be English teachers to study for two years on the Webster Groves home campus.