Bloomberg on the Vienna Campus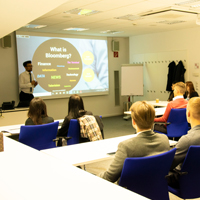 On November 20, 2019, Webster Vienna Private University hosted the annual Bloomberg Career Day on campus, this time organized by Darya Makshyna, our current Bloomberg Ambassador, and Alexandra Deubner, Senior Career Service & Placement Officer. Roughly 20 participants took part in the Bloomberg Career Lunch.
Jordan Fleary and Stefan Poechhacker, representatives from Bloomberg, held a presentation to inform students about Bloomberg and possible career pathways and current internships and job openings.
We thank Bloomberg for the constant support and opportunities they offer our students and look forward to seeing them again on campus next year.
***