Book Club: 'Bel Canto: A Novel' May 1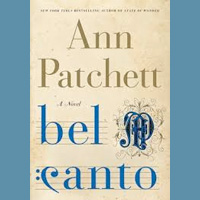 Join the Webster University Book Club on Monday, May 1 at noon in the Library Conference Room for a discussion of Ann Patchett's modern classic, Bel Canto: A Novel. Everyone is welcome!
Kirkus Reviews glowingly describes Patchett's talent for character and plot development in this story of a hostage crisis involving wealthy victims from a number of countries and terrorists whose plans are going awry.
From Kirkus Reviews:

"In pellucid prose, Patchett grapples with issues of complexity and moral ambiguity that arise as confinement becomes not only a way of life but also for some, both hostage and hostage-taker, a life preferable to their previous existence. Readers may intellectually reject the author's willingness to embrace the terrorists' humanity, but only the hardest heart will not succumb."