Book Club: 'Rachel Carson and Her Sisters' April 23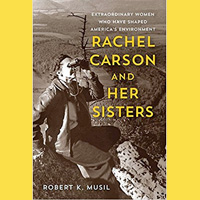 While Webster University Book Club normally does not meet in April, we have a special opportunity this year that we could not pass up.

In April, the University will be hosting Dr. Robert K. Musil as a Woodrow Wilson Fellow. Dr. Musil is the president and CEO of the Rachel Carson Council, a senior fellow at the Center for Congressional and Presidential Studies at American University, and a past executive director of Physicians for Social Responsibility.
Dr. Musil will present a talk in the Contemporary Conversations for a Connected World speaker series entitled "Rachel Carson's Legacy: Can We Still Save the Environment?" at 4:30 p.m. Wednesday, April 25, in the East Academic Building, Room 253/262.
Book Club Discussion: April 23
In honor of Dr. Musil's visit, Webster University Book Club will read and discuss his 2014 book, Rachel Carson and her Sisters: Extraordinary Women who Have Shaped America's Environment. The book examines the activists, scientists, and writers who both influenced Carson and whom she influenced. Join us on April 23 at noon in the Library Conference Room. Kelsey Wingo, Webster University Sustainability Planner will lead our discussion. Everyone is welcome!