Book Club: "The Soul of America" Sept. 16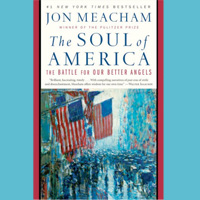 Join the Webster University Book Club on Monday, Sept. 16 at noon in the Library Conference Room for a discussion of The New York Times bestseller Jon Meacham's, The Soul Of America. Kristen Anderson, associate professor of History, will lead a discussion. Everyone is welcome!
In The Soul of America: The Battle for our Better Angels, Vanderbilt University professor and Pulitzer Prize-winning author Jon Meacham looks at American history, moments in our past when decisions led to consequences we didn't anticipate, and why he ultimately believes we should be optimistic about the future.
From USA Today:
"Meacham has become one of America's most earnest and thoughtful biographers and historians. . . . He employs all of those skills in The Soul of America, a thoroughly researched and smoothly written roundup of some of the worst parts of American history and how they were gradually overcome. . . . Meacham gives readers a long-term perspective on American history and a reason to believe the soul of America is ultimately one of kindness and caring, not rancor and paranoia. Finally, Meacham provides advice to find our better angels—enter the arena, resist tribalism, respect facts and deploy reason, find a critical balance and keep history in mind. He's provided a great way to do it."