Book Club: 'The Swerve' Nov. 16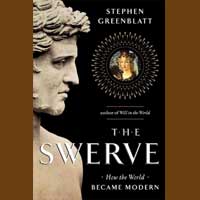 Next up in the Webster University Book Club repertoire is The Swerve: How the World Became Modern by Stephen Greenblatt. The Swerve tells the story of the fifteenth-century discovery of a long-neglected manuscript, the last copy of Lucretius's On the Nature of Things.
We will discuss The Swerve on Nov. 16 at noon in the Library Conference Room. Everyone is welcome. Additionally, the First Year Seminar, Beginning to Commence, class is reading the book now, and have been invited to join the discussion.
Greenblatt contends that this discovery reintroduced long lost ideas that caused the world to swerve in a new direction. The book won the 2012 Pulitzer Prize for Nonfiction and the 2011 National Book Award for Nonfiction. Long lost and decaying manuscripts continue to make news today as evidenced by a recent New Yorker article, "The Invisible Library: Can Digital Technology Make the Herculaneum Scrolls Legible after Two Thousand Years?"