Book Club: Trevor Noah's 'Born a Crime' Jan. 13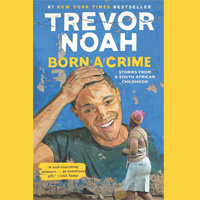 Join the Webster University Book Club as we discuss Trevor Noah's Born a Crime on Monday, Jan. 13, at noon in the Library Conference Room. All are welcome.
Born to a black mother and a white father, Noah's birth was literally a crime in Apartheid South Africa. A strong mother protected him as best she could from the South African government and the poverty and violence of their Soweto neighborhood.
Noah tells his story with a sense of humor and gratitude for the family that prepared him to survive and find opportunities ranging from the Edinburgh Fringe Festival to the hosting gig on Comedy Central's The Daily Show.
If you can't read the whole book by Monday, but want to get a flavor of it, enjoy these videos and come join us, even if just to listen.
Behind the Scenes with Trevor Noah, author and narrator of Born A Crime
Trevor Chats with His Grandma About Apartheid and Tours Her Home, MTV Cribs-style | The Daily Show