Book Club: Faulkner's 'As I Lay Dying' July 16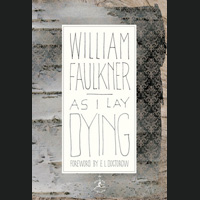 For our summer read, we turn to a classic novel that often appears on lists of the best literary works of the 20th century, William Faulkner's As I Lay Dying. Join us on Monday, July 16, at noon in the Emerson Library, room 215 (note: this is a new location from what was initially announced).
All are welcome!
Narrated by 15 different characters, As I Lay Dying is the story of the Bundren family adventures (or misadventures) as they try to honor Addie Bundren's final wish to be buried in the town where she grew up in Faulkner's legendary Yoknapatawpha County, Mississippi. Both funny and disturbing, this 1930 novel will give us lots to discuss.
Copies of the book are available for check-out at the library's front desk.