Broeder Named Global Leadership Academy Director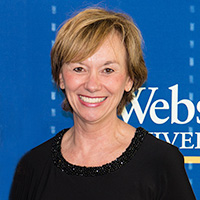 Jennifer (Jenny) Broeder has been named director of the Global Leadership Academy (GLA), Webster University's leadership development program for faculty and staff. She will assume duties from the current GLA director and dean of University Libraries, Laura Rein, who is retiring from the University in December 2017. Broeder, a professor of nursing in Webster's College of Arts & Sciences, will assume this role in October 2017.
Rein has served as director of the GLA since 2012, when the inaugural cohort was selected following the year-long work of curriculum committee members.
"The success of GLA owes a great deal to Laura's energetic and collaborative leadership of this program — one of many ways she has made an impact on Webster University," said President Elizabeth (Beth) J. Stroble. "We are grateful for the devotion she has shown to this program while also serving as dean. The GLA has improved with each year's cohort as a result of systemic study of its component parts and its impact on participants; it is this focus on continuous quality improvement that is a hallmark of Laura Rein's leadership. This unique program is in good hands as Jenny assumes its leadership."
Broeder brings a diverse set of experiences to GLA, including her membership in the program's inaugural cohort in 2012 and her academic focus on nursing leadership. A former department chair, from 2013-2015 she was associate dean for professional programs in the College of Arts & Sciences from 2013-15. She served as interim co-dean of the College of Arts & Sciences from 2015 through June 2017.
"Jenny's experience as a faculty member, department chair, associate dean and interim co-dean will serve her well as she assumes this role," said Julian Schuster, Webster's provost, senior vice president and chief operating officer. "Future GLA fellows will greatly benefit from her insight as this program continues to prepare and shape the next interdisciplinary group of leaders at Webster University."
"I am honored to take on this role," Broeder said. "In my previous positions I have been exposed to the breadth and talent of Webster's outstanding faculty and staff throughout the network. I look forward to collaborating with them further through GLA."
Broeder will work with GLA co-directors Holly Hubenschmidt and Erik Palmore in preparing the 2018 cohort.
"It has been my honor to work as part of this team with Holly and Erik," Rein said. "One of the most gratifying components of the GLA is the way it continues to develop as each cohort adds to its breadth and depth. As a previous GLA fellow and as a dean and professor, Jenny will bring extensive leadership expertise and a strong academic foundation to the program as it continues to support the strategic goals of the University through distributed leadership."
About Global Leadership Academy
The Global Leadership Academy (GLA) at Webster University is a leadership development program open to the faculty and staff of the university's global community. GLA fellows are selected each year to participate in a series of workshop and activities that help them to lead successfully in their roles and positions within the university. The primary mission of the GLA is to invest in the people of Webster University so that they may lead from where they are.
The GLA is unique in its approach to leadership development, with a curriculum that addresses the leadership domains required for successful leadership in higher education, and also opportunities to understand the complexities of Webster University. GLA fellows study and learn with others from around the university with close access to the initiatives, people, and places that make Webster University a distinctive place to work.
The fellows of the GLA divide responsibilities for facilitating workshops with internal and external subject matter experts, along with previous GLA fellows.