Browning Hall to Celebrate Dedication on Oct.19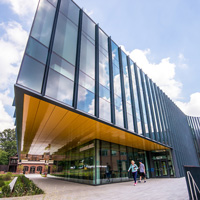 (ST. LOUIS) – Webster University will dedicate Browning Hall, the new state-of-the-art interdisciplinary science building, with a keynote speech, a series of faculty and student presentations and a ceremony on Oct. 19. The event is free and open to the public.
"By bringing the arts and sciences together in this interdisciplinary science building, we have transformed this part of campus with the glass of the building reflecting our commitment to engagement and service to community," said University President Elizabeth (Beth) J. Stroble. "The completion of Browning Hall addresses more than Webster University's needs; it addresses the needs of our community. As the St. Louis area's biotechnology, plant sciences and healthcare needs continue to grow, demand for a well-educated STEM workforce grows along with them. With the opening of the Interdisciplinary Science Building we have gained the capacity to respond more fully to the changing world and meet these needs."
Highlights of the building include a human anatomy laboratory, a nurse anesthesia simulation lab, a teaching kitchen, a student open research lab and a 129-seat auditorium. The building was designed to be LEED silver. The dedication ceremony will feature comments from university administrators and Jinny Browning along with other members of the Browning Family, the largest donors to the Browning Hall project.
"The dedication of Browning Hall is about more than the physical space, it is a celebration of all of the people who have come together to successfully complete this project," said Julian Schuster, the provost, senior vice president and chief operating officer of Webster University. "Browning Hall is a bold vision for the future of Webster where students and faculty from many departments will collaborate on new research that will contribute to the future of our region."
Keynote Speaker Vladimir Ivkovic
The keynote speaker for the dedication event is Vladimir Ivkovic, a translational neuroscientist and integrative physiologist who has contributed to ground-breaking research on brain activity and brain injuries. Ivkovic earned a bachelor's degree from Webster University's Vienna campus in 1999. He earned a master's degrees from the University of Zagreb and the International Space University in France in 2005 and 2006, respectively. He completed his Ph.D from the University of Houston. He is now in fourth year of postdoctoral research at Massachusetts General Hospital and Harvard Medical School, where he also serves as an instructor in the Department of Psychology and Neural Systems Group.
Among his achievements are his contributions to developing a portable brain-scanning system for NASA that has been used during microgravity flights. He previously worked on research regarding brain injuries among players of the National Football League and also into traumatic brain injuries suffered by military personnel on the battlefield. Currently, Ivkovic is a member of research teams at Harvard and NASA that is investigating brain activity during spacecraft docking maneuvers and sleep physiology in simulated space missions lasting 30 to 45 days. Ivkovic also is collaborating with the Boston Fire Department in researching early detection and treatment of post-traumatic stress in firefighters and other first responders.
Dedication Ceremony and Symposium Events
10:30 a.m. - Dedication Ceremony with remarks from Webster administration
1 p.m. - Keynote speech from Vladimir Ivkovic, "Science as Agency of Positive Change in the World"
2:30 p.m. - "Liberal Arts & Sciences on Display" faculty panel. During this hour, Webster faculty members will offer 10-minute lectures regarding their topics of interest.
3:30 p.m. - Student Research Showcase & Reception
About Browning Hall, Interdisciplinary Science Building
Student Research Showcase & Reception Construction on Browning Hall began in spring of 2016 and was completed in August of 2017. Browning Hall houses the departments of Anthropology and Sociology, Biological Sciences, English as a Second Language, International Language and Cultures, Nurse Anesthesia, Nursing, Psychology, Women Gender & Sexuality Studies and the Institute of Human Rights.
Last month, the building was recognized for its design excellence by the American Institute of Architects St. Louis Chapter. The building was designed by Cannon Design, with Paric Corporation as the general contractor. For more information on the architecture, visit https://www.cannondesign.com/our-work/work/webster-university-interdisciplinary-science-building/.
For more information on the building, visit http://www.webster.edu/arts-and-sciences/browning-hall-dedication.html#event.