Browning Hall Earns Two Design Awards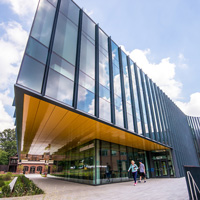 ST LOUIS - Browning Hall, the Interdisciplinary Science Building that opened in fall of 2017, received interior design excellence awards by two national educational publications for effective learning environments and benchmark type designs, Spellman Brady & Company announced this week. Spellman Brady was applauded for the interior design, planning and procurement for the project's finishes and furniture.
The building earned the "Outstanding Designs Common Areas Award" in the Educational Interiors Showcase Edition of American School & University Magazine. Browning Hall was designed so that there are numerous spaces throughout the building where students can study, work in small groups, meet with faculty, or take a short break during the day.
Learning by Design Magazine recognized Browning Hall with an "Outstanding Projects Award" in its "Architecture & Interior Design Awards of Excellence Edition."The building's interior was developed to maximize collaboration by using a "science on display" theme. This was accomplished with glass interior walls that enabled constant daylight and the use of neutral architectural finishes. To provide some contrast, bright lively colors were incorporated through the furniture finish selections.
Browning Hall was developed to provide a state-of-the-art facility that fostered interactive opportunities for academic collaboration and shared by the departments of Anthropology and Sociology, Biological Sciences, English as a Second Language, International Language and Cultures, Nurse Anesthesia, Nursing, Psychology, Women Gender & Sexuality Studies and the Institute of Human Rights.
The LEED Silver-certified facility is a 4-story, 87,268 square foot building that houses 26 labs, four classrooms, 71 faculty/staff offices and a 129-seat auditorium. These spaces include a unique teaching kitchen where students can learn about various cultures by learning to prepare food and a simulation surgery center where nursing anesthesiology students can practice various medical procedures in a real-time simulation.
A grand-opening ceremony was held for the building on Oct. 19, 2017.
Spellman Brady & Company is an award-winning St. Louis–based interior design firm specializing in senior living, healthcare, and higher education environments. The firm maintains design excellence by delivering comprehensive interior design, furniture, artwork master planning, and procurement services. As a Certified WBE Business, Spellman Brady & Company has completed more than 6,300 projects in 43 states and abroad since its founding in 1991. For more information about Spellman Brady & Company, please visit www.spellmanbrady.com.
Cannon Design was the architect for Browning Hall and Paric Corporation was the general contractor.
Besides these two newest awards, the building was recognized in 2017 for its design excellence this year by the American Institute of Architects (AIA) St. Louis Chapter.