Message from the President and Provost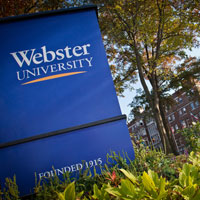 To the Webster University Community:
We would like to report to you today that Webster University's Board of Trustees unanimously approved a budget for the coming year and a multi-year plan for strengthening Webster's financial and academic position, as presented by President Stroble. Starting back in December of last year, the steering committee process gathered ideas for those plans from our community: faculty, staff and administration.
However, our work as a community to bring new revenue producing ideas to the University while creating stronger efficiencies and cost-saving methods began years ago. Since 2014, the University has realized millions in savings that came from all parts of our community. The cost savings were substantial and strategic. For example, in the past two years the University has realized more than one million dollars in cost savings for top administrative salaries. The University capitalized on internally developed skills and appointed our own staff and faculty into open positions. Also, the University implemented a voluntary retirement incentive program for faculty and staff that created more salary savings. The University has closed 14 metro and military locations that were under-performing, also resulting in a reduction of administrators and staff.
The University's endowment has increased by almost $100 million. Concentrated fundraising efforts have doubled the number of endowed scholarship funds and grown study abroad-specific scholarships. Federal and state grant funds have strengthened academic programs and created new sources of revenue. New program creation (for example: cybersecurity, several digital media communications programs, and biological sciences emphases) has been encouraged in areas where it is clear demand is high and Webster has the ability to meet demand. Investment in infrastructure and faculty awareness of WebNet+ and online options have created efficiencies, combining courses across campus locations that otherwise would have been cancelled due to low enrollments.
While these works have been productive, more effort is needed. The steering committee, along with three subgroups, were charged with recommending improvements that can be made to strengthen Webster's financial and academic position in the related areas of cost management, increased efficiency and revenue growth. As noted in the president's letter of April 11, the president and provost prioritized the findings of the steering committee and the president presented a plan of action to the board of trustees today.
Now begins the implementation phase.
All members of the University community will need to work together to overcome our challenges. The University will again have continued financial challenges and our community will use many of the ideas conveyed in the steering committee meetings and suggested in our communications portal to make the necessary changes for a stronger Webster.
Through the steering committee process, we are meeting the challenges of the new highly competitive environment in higher education and finding new ideas for additional revenue sources along with making prudent fiscal changes. Many institutions across the country are experiencing a gap between revenues and expenditures. The enrollment and financial trends that created those gaps are understood by the Board of Trustees and they agree with us that turning those trends around will require significant change and transformation at Webster. It will be necessary for the University to both branch and prune on that journey. There might be differences in opinions about how that branching and pruning should be achieved, but now is the time to join together to achieve these goals.
As we move forward, more details will become available regarding concrete steps to achieve next year's budget goals along with our three-year plan. Those details of how we will strategically approach these challenges will be posted in the communications portal. That budget plan focuses on both increased efficiencies and additional revenue sources. In addition, we will post all of the ideas generated by the steering committee. Although not all of those ideas are part of this year's plan, as we have outlined in earlier communications, there is a likelihood we will return to this pool of ideas in the coming years. We believe we will need to work together for the next three years to meet this challenge.
We will now be asking for the help of our community members in assembling implementation teams to work toward adherence to our strategic budget plan. Beginning tomorrow, faculty and staff will be able to use the communication portal to volunteer to be part of these teams. In addition, we will be convening a special task force of our Board of Trustees to track our progress and help with further ideation regarding our budget. During its June meeting, the Board of Trustees will also be reviewing the performance of all locations in our network to consider further efficiencies and new revenue generation. Also, we are actively scheduling meetings with staff and faculty to communicate directly about the details of our plan. During those sessions, we will be engaging the community not just about this year's plan but also engaging in dialogue about ideas for a shared strategic vision for Webster's long-term future. All ideas will be considered and every part of the University will be examined: everything is on the table for rethinking.
We will continue to invite new ideas to meet our challenges through the communications portal, our implementation teams, and existing standing committees. We urgently need and welcome members of our community to join us in this challenge through volunteering for the implementation teams as we continue the good works of our University community. We must accomplish this important task together.
We want to thank those who have worked hard to meet our challenges in the process catalyzed by the steering committee. But as we have outlined here, this is only one of the first steps, and there is much more important work ahead. We will continue to monitor, track, and communicate our progress to the community on a regular basis. As we move forward together, we will need more bold ideas to reshape Webster while engaging our entire community in the process. Together we can create a stronger vision for Webster's future.
Elizabeth (Beth) J. Stroble
President
Julian Z. Schuster
Provost, Senior Vice President and Chief Operating Officer