Student from Mexico Building International Skillset in Heart of Vienna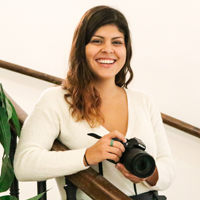 After several months of research, "An American University in the heart of Europe" flashed into focus on Loren Sandoval's desktop screen. For a 23-year-old student from Monterrey, Mexico, this tagline accompanied by the description of Webster Vienna as "a vibrant international community" was the sign Sandoval needed to decide to pursue her studies in Europe.
Webster Vienna's double accreditation in the USA and Austria was another reason for Sandoval to apply. When the Borealis Scholarship endowment at Webster Vienna, made possible by the Borealis Social Fund, recognized her need and merit.
"I was awarded a full-tuition scholarship by Webster Vienna's partner, Borealis, that has been immensely supportive in financing my studies and motivating me to be a dedicated student and community member," said Sandoval.
"This scholarship, among others, was and still is the most extensive and exclusive in Webster Vienna's nearly 40-year history, and it helps to attract talented students, such as Loren," says Webster Vienna's Rector, Johannes Pollak.


"I decided to pursue a double major in Media Communications and Psychology because I believe that media plays a significant impact in shaping our views and opinions, and I'd like to use it as a tool to create a positive impact in society," said Sandoval."On top of that, the location in an outstanding and culturally-rich city made Webster Vienna an excellent fit for me."
Webster Vienna's students and Borealis Scholarship recipients - Vanessa Miller, Loren Sandoval, Sonja Benczik, Sandra Flöck, Samuil Pavlevchev (from left to right) with Philippe Roodhooft, Borealis Executive Vice President Middle East and Growth Projects (Center)

Studying at Webster Vienna is about understanding theory through practice. "While my study program at Webster Vienna has provided me with valuable theoretical knowledge to satisfy my initial interests in both fields, I have enjoyed learning from the projects and learning experiences outside the classroom, which our professors constantly encourage," said Sandoval.
The engaging and stimulating environment created by the professors and staff on Vienna's campus has not only satisfied her intrinsic love for learning but also encouraged her to strive for ambitious academic goals that have been highly rewarding. However, Webster Vienna is about not only academic achievement and discovering your professional potential. It also offers opportunities to grow personally, be part of a multicultural community, and develop leadership skills. To this end, you can often find Sandoval volunteering with the LEADS program at different events, or coordinating media equipment for projects with the WebMUN media team.
"Being part of our campus life has been very rewarding for me," said Sandoval."My involvement in the university has made me a more confident person and pursue opportunities that are out of my comfort zone. Therefore, when I am not studying, I can usually be found around campus working with different organizations, such as the Student Government Association, where I recently got elected as president – a position I did not even consider taking as a Freshman. In there, I work alongside other motivated students to make the experience at our university as rewarding as possible."
Webster Vienna also offers full-term study abroad programs in various international locations around the world, as well as short-term faculty-led programs in a variety of destinations. Thanks to this program, Sandoval had the opportunity to study in Thailand last fall. "There, I got to experience first-hand the interconnectedness of the Webster community around the world and learn about a rich and fascinating culture. During my time there, I also got the opportunity to attend workshops and learn from a diverse group of renowned scholars that enhanced my academic experience," said Sandoval.
As her time at Webster Vienna draws to an end, Sandoval admits that she is considering what her next step will be. "I am planning to keep discovering my passion in the field of photography and journalism by having an online internship with one of the most read newspapers of my hometown, El Norte; while at the same time begin to prepare my applications for a Master's Program in Gender, Media and Culture in London" Sandoval
While she evaluates the first steps in her career, she finds confidence in knowing that during her time at Webster Vienna, she gained the skills and experience necessary to begin her next chapter.