Search Committee Formed for Walker School Dean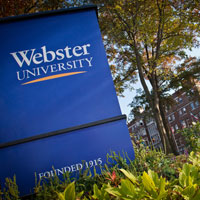 Webster University Provost, Senior Vice President and Chief Operating Officer Julian Schuster has announced the search committee for the position of dean of the George Herbert Walker School of Business & Technology.
Committee members will assist in recruiting and evaluating a strong and diverse pool of academic leaders. The members of the committee were selected through a collaborative effort with faculty members in the School.
Members of the committee are:
Nancy Hellerud, vice provost, committee chair
John Aleshunas, associate professor, Math and Computer Science Department
David Porras, associate professor and chair, Business Department
Joe Roberts, associate professor and chair, Management Department
J.P. Palmer, associate professor, Management Department
Eric Rhiney, assistant professor, Management Department
Jill Stulce, associate professor, program director and chair, Nurse Anesthesia Department, College of Arts & Sciences
Robin Higgins, associate professor and chair, Legal Studies Department

, College of Arts & Sciences

Charlie Hahn, vice president, Advancement
Rich Dippel, associate professor, Business Department
Peter Sargent, dean, Leigh Gerdine College of Fine Arts
Dawn Jensen, director, Office of Corporate Partnerships
Sebastian Bellomo, adjunct faculty member, Business Department
Stuart Greenbaum, former dean of the Olin School of Business, Washington University, will serve as an external advisor to the search committee.
In addition, the search committee will be assisted by a search firm.