Webster Alumnus Participates in 42 Doors of Hope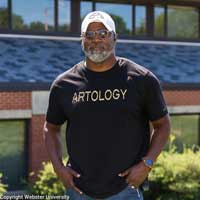 ST. LOUIS - The mysterious door that has appeared outside the Sverdrup building might appear to be a door to a fantastical wonderland, but it has a more serious nature - raising money to help cancer patients. Named "Release," it's a work by Webster University alumnus Byron Rogers, who earned a BA in Art History in 1995. It is on display as part of the 42 Doors of Hope project, one of 42 doors around the St. Louis bi-state area, each painted by a different artist.
The 42 Doors of Hope project is part of the Hope is Home campaign through the American Cancer Society. The campaign is designed to raise awareness for and fundraiser for the renovation of Hope Lodge St. Louis, which serves as a free home away from home for thousands of cancer patients and their caregivers.
Rogers' door is a combination of images he's done in the past. "Inspiration is the male face that is looking up on one side with the butterflies around it. And then the other side is the image of a woman kind of bracing herself and there's this overseer type image behind her, and all of it is kind of representative of my mother."
Rogers said that his mother has always been his inspiration behind everything he's ever done. "She's been my biggest supporter, my biggest fan, pushing me to all my different levels of education to be the best that I can be," he said.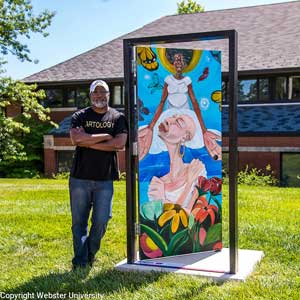 Rogers' mother developed breast cancer when she was in her 40s. "She was real sick for a while so my auntie came and kind of helped support me because I was the only one left at home around that time," he said. "It was a hard time for my mom, but she eventually surpassed and survived it and just kept going on to be this great person in the community. Everybody in the community looked up to her as an inspiration and came to her for wisdom and knowledge.
"She sacrificed and put me in a private school and worked several jobs to make sure I was taken care of. She was a woman who was selfless and sacrificed for her family and sacrificed a lot for me, so in everything I do, I dedicate it to her and try to be the best that I can be. Because of her."
Rogers said that's why so much of his inspiration for his art comes from her. "I want those vibrant colors to represent her attitude, her personality. She's always taught us to have a spiritual foundation, to always look at the positive side of things, to not worry about our current situation because worrying doesn't do anything except bring on stress, to always think about the positive side and always look for that door; that way out." According to Rogers, that's what he's trying to capture with the "inspired" side of the door.
"The other side is just my mother being a cancer survivor, and even in dealing with the illness, still having that hope that there will be a better day, because that's where the sun rises. There's always a new day to start over and make things better," Rogers said.
Rogers is no stranger to the power of art. "Right now, art is my saving grace. I see art as that source of inspiration, that source of outlet; it's therapeutic for people to get involved with some type of art because it'll take away stress, it'll take your mind away from a lot of the things we're dealing with now in our society."
Rogers continued, "I was one of those kids born in the inner city of St. Louis. A lot of our teachers didn't expect us to live past 21, let alone 18. They didn't really push us to be anything in the public system that I was in. Art became my way of speaking, expressing myself, helping me communicate when I couldn't verbally communicate. Art saved my life."
According to Rogers, college wasn't on his radar at first, but his mom pushed him to go. "I didn't have a clue on what I wanted to major in. I went through biology, political science, psychology, and still didn't have a clue when it came down to it," he said. "One of the deans called me into the office because I kept switching my major so much, and he said 'you've really got to sit down and go home this weekend and write a letter on why we should keep you here.'
"And that was really a pivotal point in my life because once I walked out of his office, I just happened to look across the street and saw I was in front of the art building, and I remembered what my auntie told me. 'Do what you love.'"
From there, Rogers pursued Art History, where he met some of the most influential people in his life. "Jeff Hughes taught me how to love and appreciate the arts, not to just look at it for face value but to really dive deep into what art means and why the art is created," he said. "Tim Liddy helped me understand the human anatomy, to really make it my own, exaggerate the way I want to exaggerate and accept it. And Leon Hick was very influential in helping me understand my heritage in the arts. They're all a big part of who I am and why I do what I do now."
Now a teacher for Kirkwood School District, he tries to teach his students the same things. "I try to build a relationship with them and get them to see how they can connect to the art. It's about understanding how to express yourself. There are different lines that can help you express a different emotion. There's not one way of expressing."
"The project was fun, for one. It was a great outlet. But the one thing I think was really important to me is I did the project in class before COVID happened. And my students got a chance to see me work. A couple students actually helped me paint the board," Rogers said. "It was open, and that's what I want them to understand: that art can be shared. It's not one thing; it's a communal thing. It doesn't have to be all the time, 'mine, mine, mine.' It's okay to share and ask for help."
Community members are encouraged to visit all 42 doors and vote for their favorite to be displayed at the new Hope Lodge St. Louis. Voting started on July 9 and will go through Oct. 31.
For more information on the American Cancer Society of Missouri and their Hope Lodge, please visit hopeishome.org.