Campus Activities Presents SNL's Kenan Thompson April 13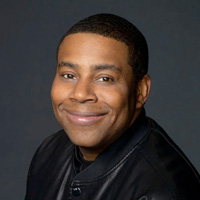 Updated March 25, 2020
Due to the current restrictions on gathering size, the Kenan Thompson performance is canceled for April 13, but we are working to find an alternate date to reschedule. Details will be announced when we have further information.
Already distributed tickets will be valid for the rescheduled date - do not lose your tickets, as they cannot be reissued. Refunds on paid tickets will not be considered until we have information on the rescheduled date. Those who have purchased tickets will be contacted by Campus Activities via email once a rescheduled date has been announced.
Original story:
Campus Activities welcomes Spring headliner Kenan Thompson on Monday, April 13, at 7 p.m. in Grant Gymnasium.
Tickets are free for students at the University Center Information Desk with valid ID; faculty, staff and alumni tickets are $10; general public tickets are $20.
About Kenan Thompson
Thompson is currently in his 17th season on "Saturday Night Live," and is the show's longest-running cast member. Thompson has made numerous contributions to the show with his slew of hilarious impressions that include Rev. Al Sharpton, Charles Barkley, Steve Harvey and David Ortiz, and by playing memorable characters such as DJ Dynasty Handbag, the scathingly fierce co-host of Deep House Dish, boisterous second wife Virginiaca Hastings and Weekend Update correspondent Jean K. Jean. In 2018, he received the Emmy Award for Outstanding Original Music and Lyrics for the "SNL" song "Come Back, Barack" and a nomination for Outstanding Supporting Actor in a Comedy Series.
Thompson garnered praise from audiences for playing "SNL" characters Lorenzo McIntosh, a convict who uses "scare tactics" with delinquents, and D'Andre Cole, the disruptive singing talk show host on the wildly popular sketch What Up with That. Thompson received an Emmy nomination in 2017 for co-writing "Last Christmas" from the popular Jingle Barack sketch.
Thompson serves as a judge, alongside Chrissy Teigen, Jeff Foxworthy and Amanda Seales as host, on NBC's comedy competition series "Bring the Funny," which debuted in the summer of 2019. Additionally, he serves as the show's producer.
A native of Atlanta, Thompson made his television debut as a member of Nickelodeon's all-kid sketch comedy series "All That." Thompson now serves as an executive producer on Nickelodeon's 2019 "All That" reboot. He and Kel Mitchell debuted on the spinoff "Kenan and Kel" in 1996. Thompson also had a recurring role on The WB's "Felicity."
Thompson showcased his voice talents as Bricklebaum in "The Grinch," which made history as the number-one Christmas movie of all time. His past projects include starring opposite Samuel L. Jackson in "Snakes on a Plane," "Wieners" and "The Magic of Belle Isle" with Morgan Freeman. Thompson has also lent his voice to the animated films "Wonder Park," "The Smurfs," "The Smurfs 2" and "Space Chimps," the television series "Sit Down, Shut Up" and the Kobe Bryant/LeBron James Nike puppet campaign during the 2009 NBA playoffs. Other feature film credits include "Fat Albert," "D2: The Mighty Ducks," "Good Burger," "The Adventures of Rocky and Bullwinkle," "Brother Nature," "Heavyweights," "My Boss's Daughter," "Barbershop 2," "Going in Style" and "They Came Together." He was the voice of Austin "Impresario" Sullivan on the Hulu animated series "The Awesomes" and Riff in the film "Rock Dog."
Upcoming projects include the NBC comedy "The Kenan Show," "Clifford the Big Red Dog," Universal's "Trolls World Tour" and Netflix's Adam Sandler film "Hubie Halloween."